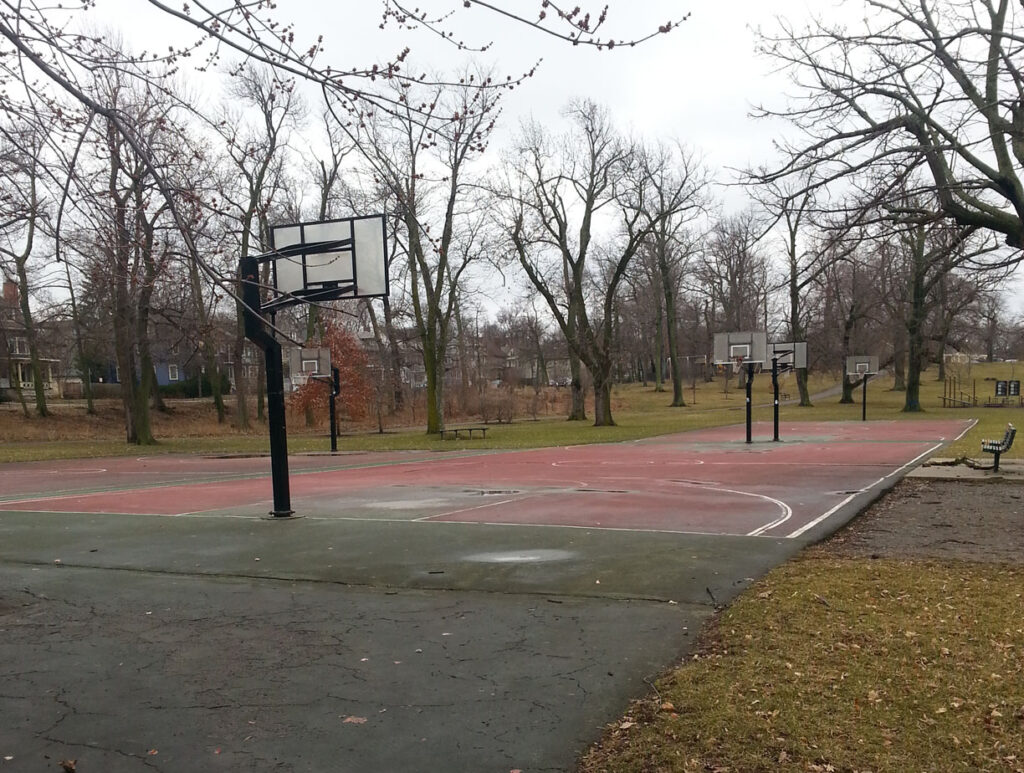 The following are quotes from the many contributors to my two-part book project entitled, The Engineers: A Western New York Basketball Story who were gracious enough to each tell their stories. The contributors will also be acknowledged in the books themselves and these are being shared for promotional purposes. To tell this story the way I wanted to tell it with depth and substance, I couldn't have done it on my own. Telling this story was a long process and there were times when I felt self-doubt and wondered if this was a big waste of time. Each contributor reminded me in their own way that I was creating something worthwhile and to stay the course. Thank you all again.
Adrian Baugh, Player, Buffalo Traditional High School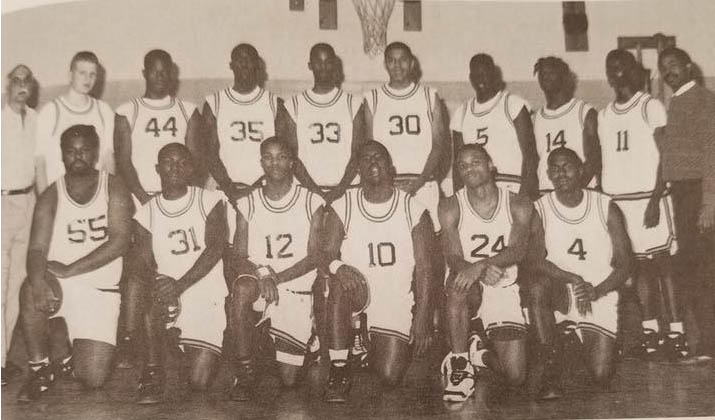 "It was all new to me, just the process. I've had people tell me, 'If I had you,' like when they had Jason, Damien and Malik (Campbell), there's no telling where I'd be, and I believe that. When we played St. Joe's, we never beat them. In my three years of playing at Traditional, we never beat them and that's because of the fundamentals part of it. We didn't have it. St. Joe's had it, we had way more talent than them, but fundamentally they were better than we were at that time!"
The 6'6" Adrian Baugh was one of the key cogs in the Jason Rowe– and Damien Foster-led Buffalo Traditional Bulls teams. He was also one of their unsung heroes. The Bulls literally took a stranglehold of the Yale Cup partway through my time as a Hutch-Tech Engineer. In this excerpt from our interview, Adrian described how he gradually learned about organized high school basketball at Buffalo Traditional. While they were extremely talented, he discussed how the Bulls didn't fare well against fundamentally sound teams like the perennial powerhouse from the Monsignor Martin League, the St. Joe's Marauders.
Carlos Bradberry, Player, LaSalle Senior High School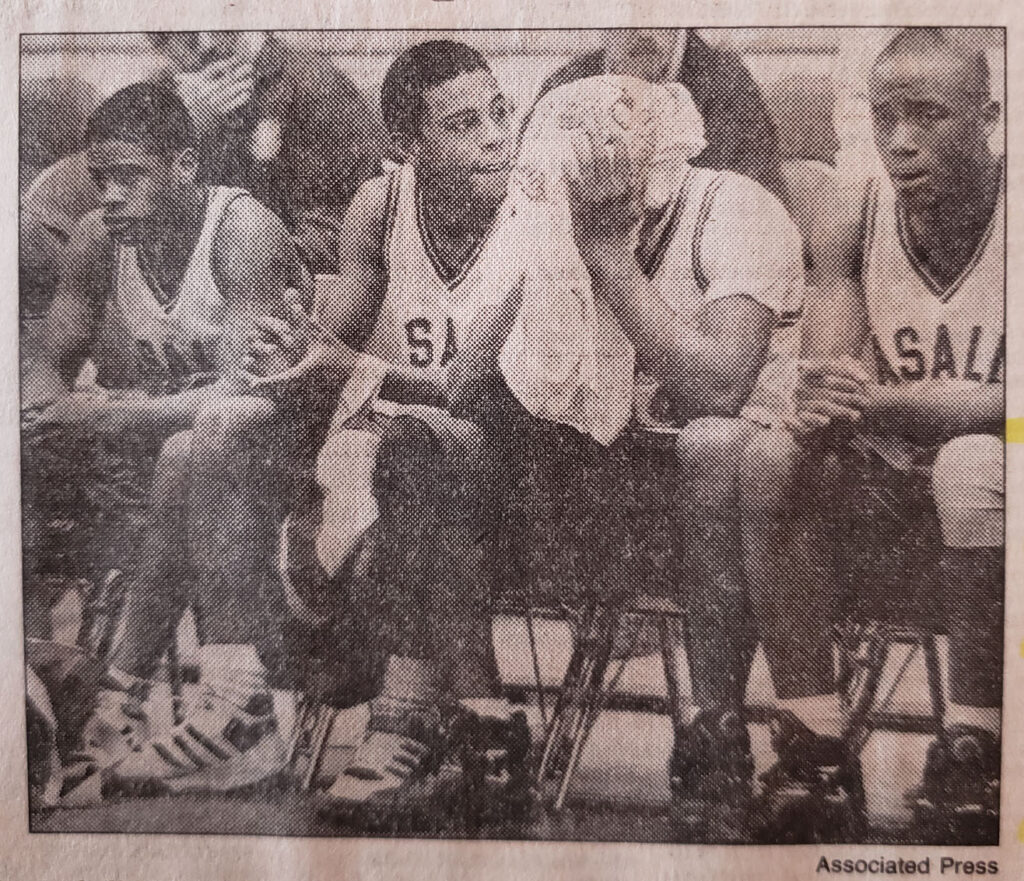 "I was satisfied (with my senior season), but I hate to lose so that last game wore on me for a long time. I probably sat there for a week or two and thought of every play I could've done differently. I still remember it to this day. We lost by three points, and I missed five or six free throws. I said to myself, 'If I'd made those six free throws, we would have won the game!' For me it was bitter-sweet because we got there and showed well, but I thought we could've gone one step further. What made it worse was, I think Hempstead either won or had a very close game with Mount Vernon. I thought we could've been the state champs if I'd played a little bit better."
No. 50 Carlos Bradberry was one of the many great guards in the LaSalle basketball dynasty. He had been a LaSalle Explorer for several years and emerged as the leader of the team as a junior. I first saw him play in a lopsided loss they handed our Hutch-Tech Boys' Basketball Team in December of 1991. His Explorers team broke through and advanced to the final four in Glens Falls his senior season. There they fell short against Hempstead from Long Island by a narrow margin. In this excerpt Carlos lamented the free throws he missed in his final game. They likely would've helped them advance to the state final game against Mount Vernon.
*To read the full interview, see parts one and two.
Curtis Brooks, Player, Hutch-Tech High School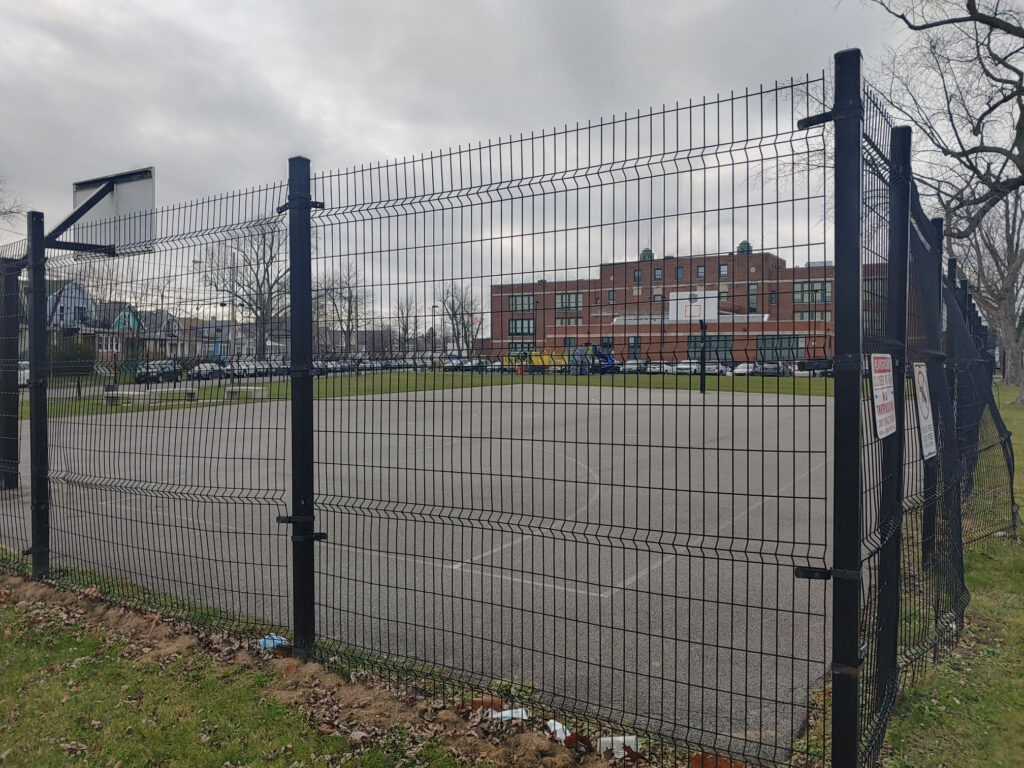 "I wasn't an Alpha Dog. Just growing up, I knew Pep was athletic. I knew Chuck was the big man. I knew Frankie and all of them. We grew up in Central Park. Central Park was four streets away from me. I used to cut over the tracks and play at Central Park. I used to go to my old School 68, I think they call it Westminster now. I just knew what I could do, and I grew up with everybody. So I just had to trust that, you know I've got the ball, and if a teammate is open, I'll give it to him on the fast break, and then let's play D! But I wasn't an Alpha Dog at that time."
No. 13 Curtis Brooks was one of the leaders of the 1990-91 Hutch-Tech Boys' Basketball Team, one of the bases for my story. That season he was one of the statistical leaders of the team in terms of points and assists and hit several big shots for them. I considered him to be the engine that drove that team. I was still in awe of him 20 years later when I interviewed him. Only seeing him play from the sidelines as a freshman, I never got to know him personally. When we talked about those times, he was both humble and wise. That season, he made the Buffalo News' All-Western New York Second Team. In this snippet from our two-part interview, he shared that he didn't consider himself to be the star of that team and didn't look to be. He was a pass first point guard who looked to set his teammates up first offensively.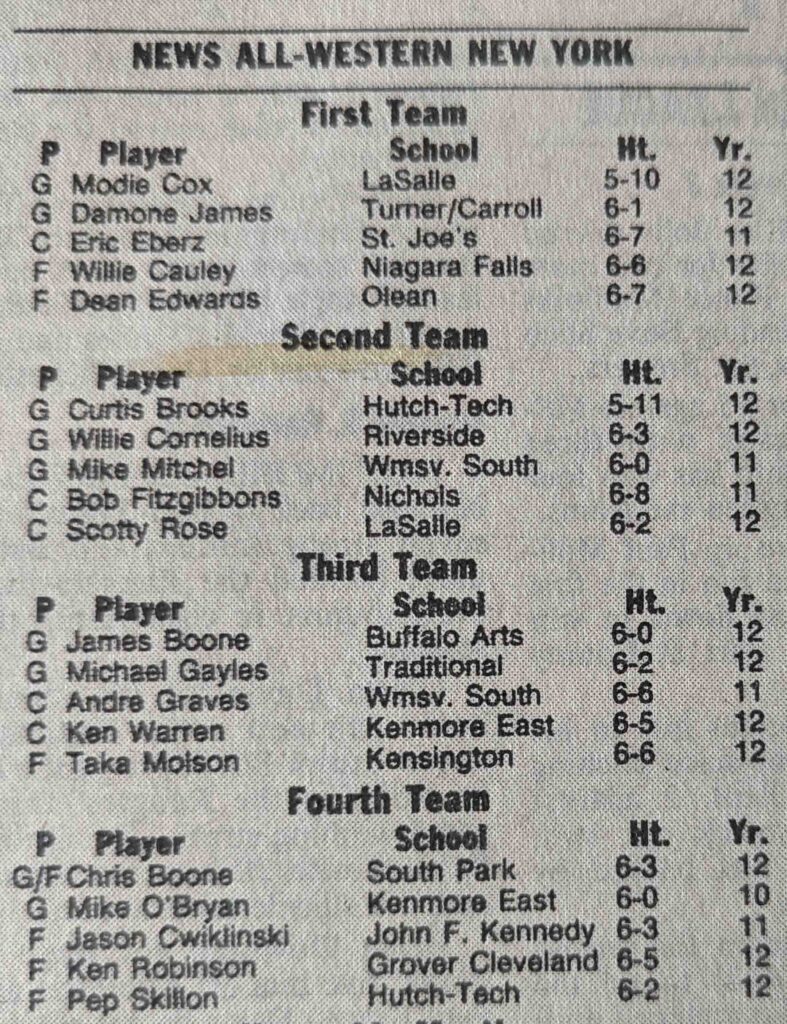 Adonis 'AD' Coble, Player, Hutch-Tech High School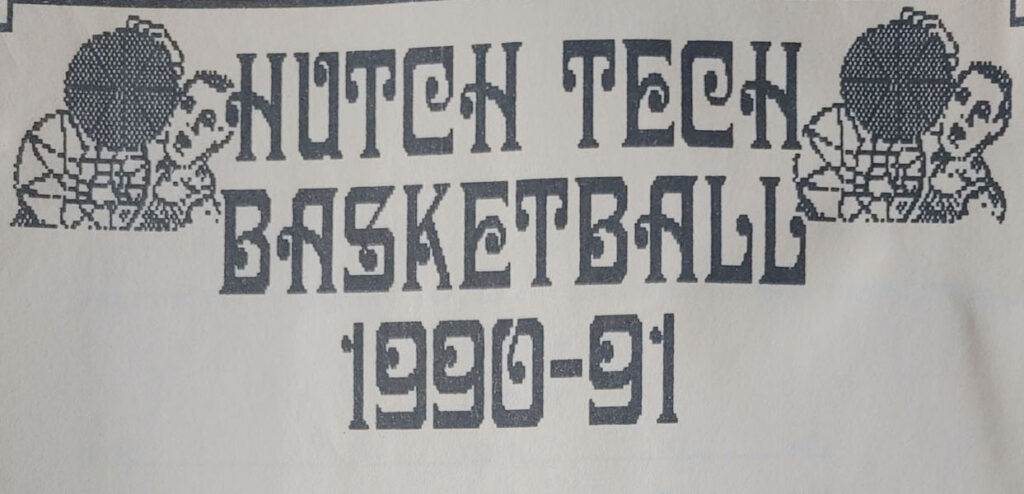 "That was a great feeling being around a group of guys who played together and really liked being around each other. Those guys were great, they were great teammates as well as great guys off the court. They were a very close-knit group that were friends as well as teammates (the 1990-91 Hutch-Tech Boys' Basketball Team)."
The first player I interviewed for this project was No. 23 Adonis Coble. Adonis was one of the seniors on the Hutch-Tech Boys' Basketball Team for the 1991-92 season, my first season. He and the Class of 1992 seniors showed a lot of leadership that year. Interviewing Adonis led me to several other players and Coach Jones himself. He was also a member of the 1990-91 team. One of my questions involved what being on that team was like. His answer described some of the secrets of championship teams, camaraderie and togetherness. This was a recurring theme throughout my interviews. While important parts of the equation, talent and skill aren't always enough to win consistently.
Ryan Cochrane, Player, Cardinal O'Hara High School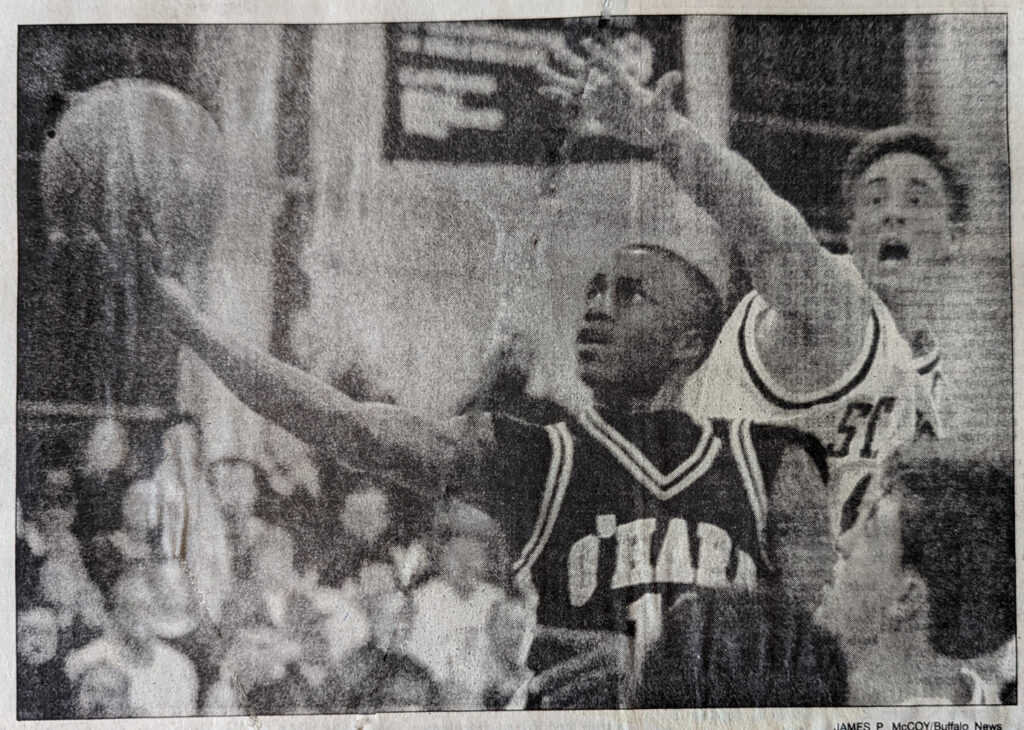 "Being a part of the team is everything, whether its basketball or the team I have at work. It's a team. I can go back to my O'Hara team in my junior year. There were plenty of teams that were way more talented than us. Turner-Carroll, St. Joe's and Lackawanna were more talented than us. But as a team putting all of our pieces together and putting the team first, that was what got us winning the championship. It's weird because you can take not all, but some of us – some players may not have started on another team, but our team together as a whole, we were way better than anybody else."
No. 12 for the Cardinal O'Hara Hawks, Ryan Cochrane reached out to me on Facebook after publishing my Jason Rowe interview. Knowing of his legend, I immediately asked to interview him to which he agreed. Prior to the 1993-94 season, I hadn't heard of Cardinal O'Hara, Ryan Cochrane or Calvin Price. I became quite familiar with him that year though. He led the Hawks on a magical run through the Monsignor Martin League and in postseason play his junior season.
Samuel 'Quinn' Coffee, Player, Kensington High School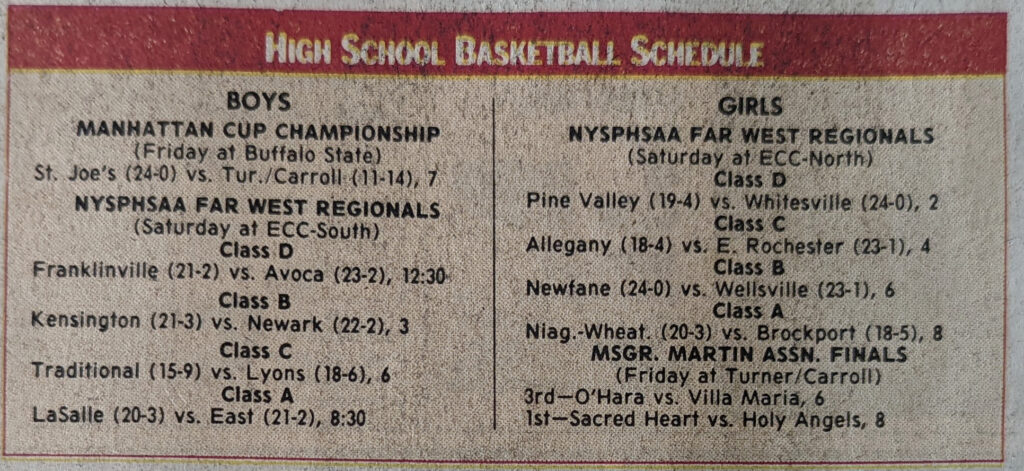 "It taught me that your hard work isn't always recognized (playing on the Kensington Boys' Basketball Team). But that doesn't mean you give up working, because somewhere down the line, it's going to have a benefit to you. I never gave up, I never slacked in practice, I never missed practice!"
I met Coach Quinn Coffey my first and only year at Brockport State College. He had played at Kensington and was a member of the Class of 1992, two years ahead of me. We reconnected on Facebook years later, and I knew that I wanted to interview him for my book project. He loved the game and now coached both boys and girls in the Baltimore era. As a coach, he wanted all the kids he touched to get the most out of their playing experience. This is something he questioned about his playing days at Kensington. His quote gets to the essence of my book project. Everyone's playing experience was different depending on your coach, teammates, and your overall life circumstances. In life, your hard work may not always be appreciated initially. Somehow you must find ways to keep going as someday it might.
Maurice 'Modie' Cox, Player, LaSalle Senior High School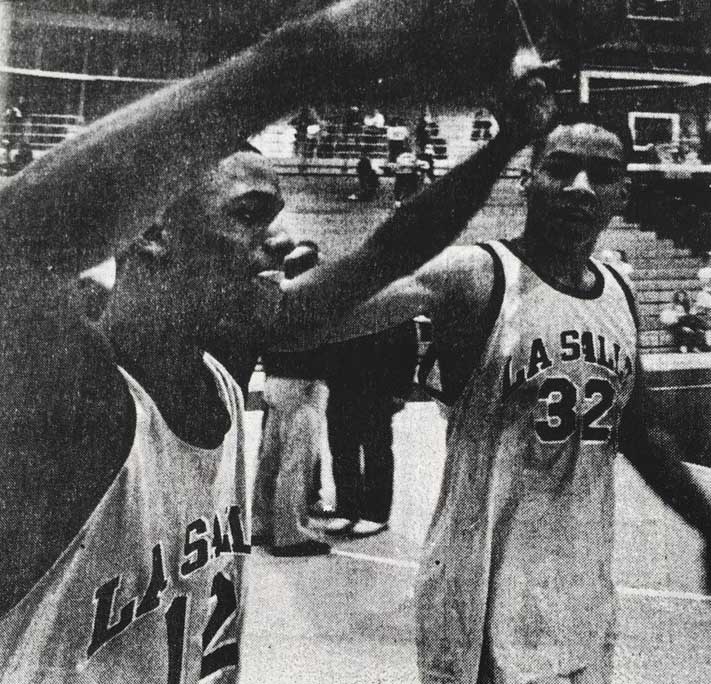 "We were very familiar with them (Ritchie Campbell and Marcus Whitfield from Burgard) because we felt like second class citizens. We were not getting the respect that the Buffalo basketball players were getting. So, whenever we came to Buffalo, we knew that it was going to be different. It was going to be a track meet and we were going to show what Niagara Falls was all about. I know that at least for myself, I played with a chip. I knew that when we went to Buffalo, we had to come with a certain mentality and a certain attitude. Again, we looked at Buffalo as the big city and we are little Niagara Falls and nobody knows about Niagara Falls basketball. We do not get the big headlines and we do not have the big players that they had in Buffalo, so we were well aware of the players in Buffalo. And when we had the chance to go to Buffalo it was straight business!"
Of the great guards to play in Head Coach Pat Monti's LaSalle basketball dynasty, perhaps the greatest guard was Maurice 'Modie' Cox. Like many players in Western New York, I only heard of Modie's legend and never saw him play. Modie was the leader of the LaSalle dynasty between the Eric Gore and Michael Starks-led 1988 Class B Federation Championship Team and the Carlos Bradberry led teams of the early 1990s. This excerpt comes from Modie's visit to my sports YouTube channel Big Discussions76 Sports.
Francis Daumen, Coach, Hutch-Tech High School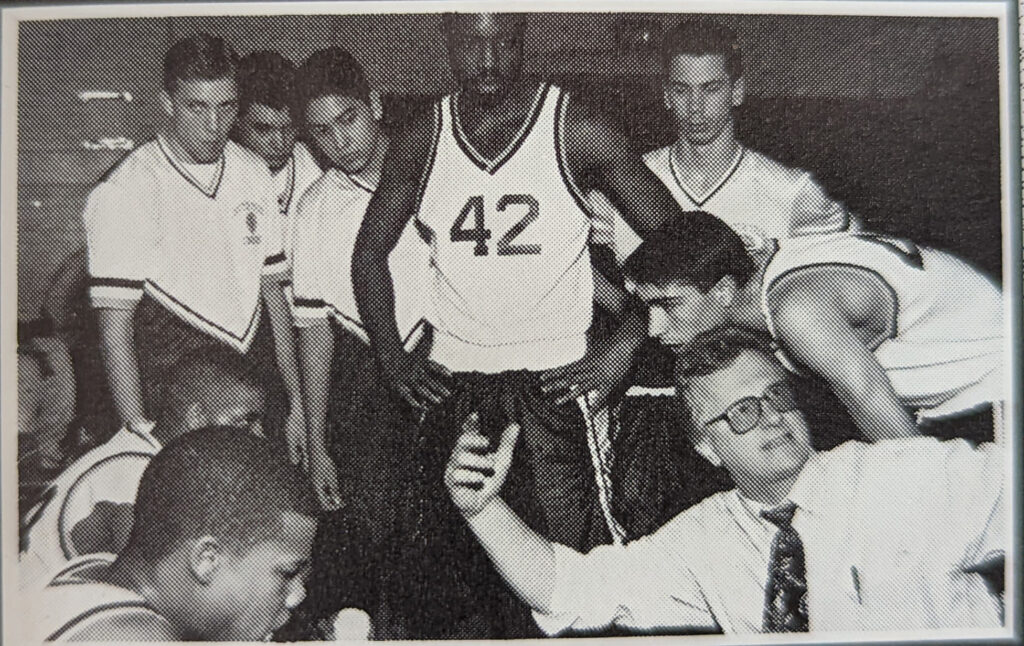 "The game (basketball) by nature brings out the bad in people. You're required to be violent. You're required to be a team player. You're required to run, and hit, and smash into one another – to jump and run and to be physically and mentally exhausted – and that's only practice. The games are fun, it's the practices – the day-to-day grind. It's a tough sport!"
Coach Francis Daumen took over for Coach Jones my senior season at Hutch-Tech. I didn't know how to handle the coaching change and struggled through that year. I don't think we understood one another that 1993-94 season. When I interviewed him 20 years later, we shared what was happening in each other's lives and it all made sense. His approach to the game was different than Coach Jones'. This snippet from our interview reveals how he viewed the game of basketball, battle.
Carlton Ford, Player, Hutch-Tech High School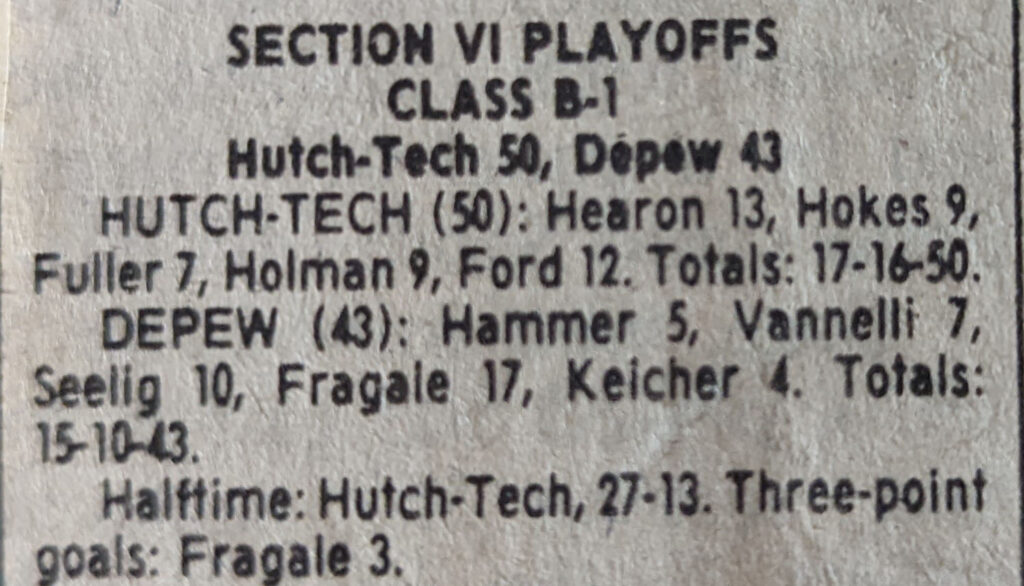 "That's something that was never really clear to me from varsity practices. I don't recall Coach ever saying, 'Take that shot. You could've taken that shot at the top of the key!' On the junior varsity (JV) team it was a different story. I was in double figures scoring, and it was known that I could score and get to the basket. On the varsity team, there was never a green light given. I just think that over time, I realized that I would take this shot and there would be no complaints and I would just get back on D. But I think by senior year I learned how to play in that offense."
Carlton Ford was a two-year teammate on the Hutch-Tech Boys' Basketball Team. A member of the Class of 1993, he was a year ahead of me. We were similar in terms of temperament and personality. Our interview revealed that we viewed our first year on the varsity team similarly, a learning year. I discovered later that some kids looked at their first year differently. They demanded to get on the court and play immediately. He was a mature and unselfish pass-first guard who like me, had to learn to play in Coach Jones' fundamentals-based offense.
Damien Foster, Player, Buffalo Traditional High School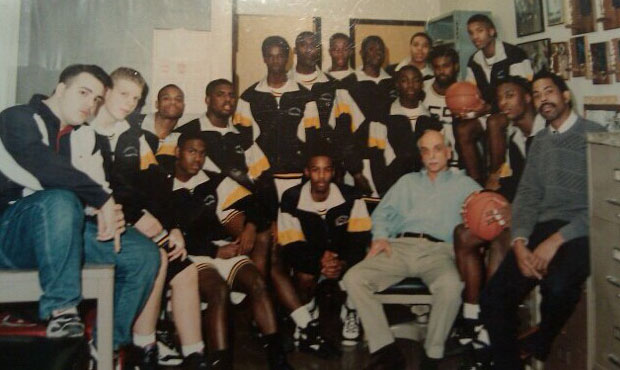 "I've heard it 1,000 times! Coach Cardinal heard it 1,000 times and we all heard it. Most of the time you'd hear it from the suburban coaches and schools. My opinion on that is that Cardinal wasn't trying to be something he wasn't. Cardinal was more so a father figure to us. He was there for us. We could come to him for anything, and he'd give us advice whatever the case may be. You're dealing with city kids – kids that come from single parent homes. You're dealing with a lot of things and lots of these kids don't have structure in terms of playing organized basketball, so they come to the city schools and play on these teams. With their attention span, you draw up a play and they get in the game, and they might forget the play. Or they might not have that discipline to run a play."
Damien Foster and Jason Rowe seemingly burst onto the scene together the 1992-93 season as freshman. They had prepared for a while, and only those who were unaware of them were astonished by their brilliance. It was always whispered that their coach, the late Joe Cardinal wasn't much of a coach. He simply inherited talented players every year and let them go while he sat back and racked up the wins. According to Damien though, he cared about his players and looked out for them as best he could. Furthermore, he knew what and who he was in terms of coaching and didn't pretend to be something else.
*To read the full interview, see parts one and two.
Dion Frasier, Player, Hutch-Tech High School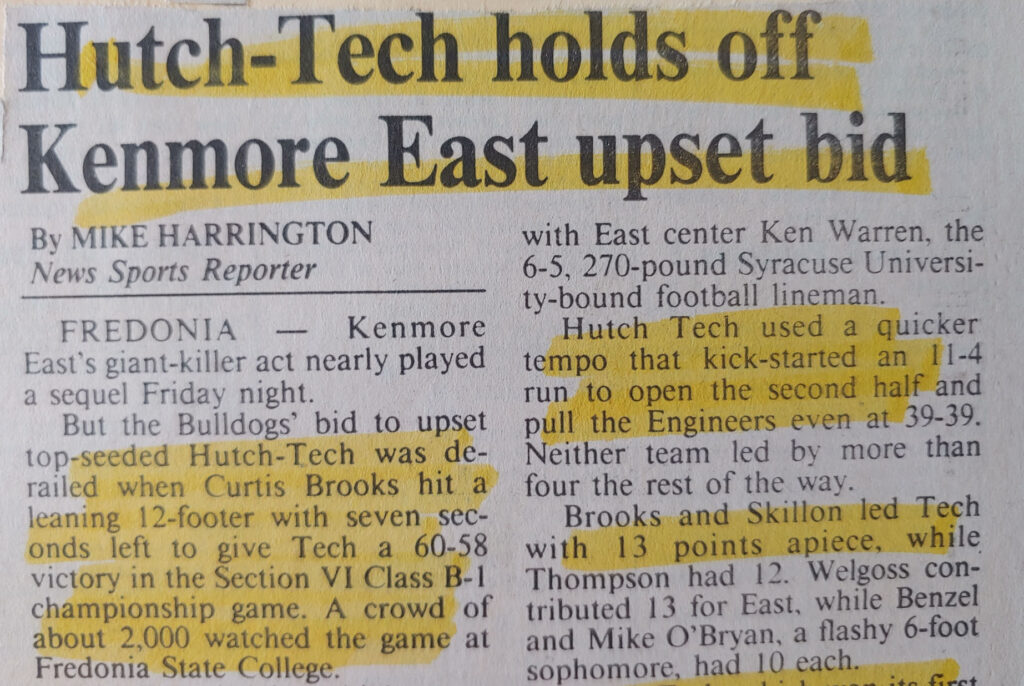 "Anwar. You know it's one of those deals where I talk about it – when I talk about a team, when I talk about buying into a system, when I talk about leadership, when I talk about being a part of something that's bigger than yourself, when I talk about everybody has to play a role. I talk about that season (the 1990-91 Hutch-Tech Boys' Basketball Team). That's my go to sermon, and it's so engrained in who I am and it's a matter of me knowing I played a vital role on that team and so it's something that's extremely special."
Reverend Dion Frasier was a junior on the 1990-91 Yale Cup and Section VI Class B championship teams. He was a senior my first year on the team, the 1991-92 season. In my book project, I credit Dion and two other seniors for helping keep the 1991-92 team together. It was a tough season which could've easily come off the rails. He and his peers were sorely missed once they graduated. In our interview, he discussed how the 1990-91 Hutch-Tech Boys' Basketball Team regularly comes up in his Sunday sermons 30 years later.
Jermaine Fuller, Player, Hutch-Tech High School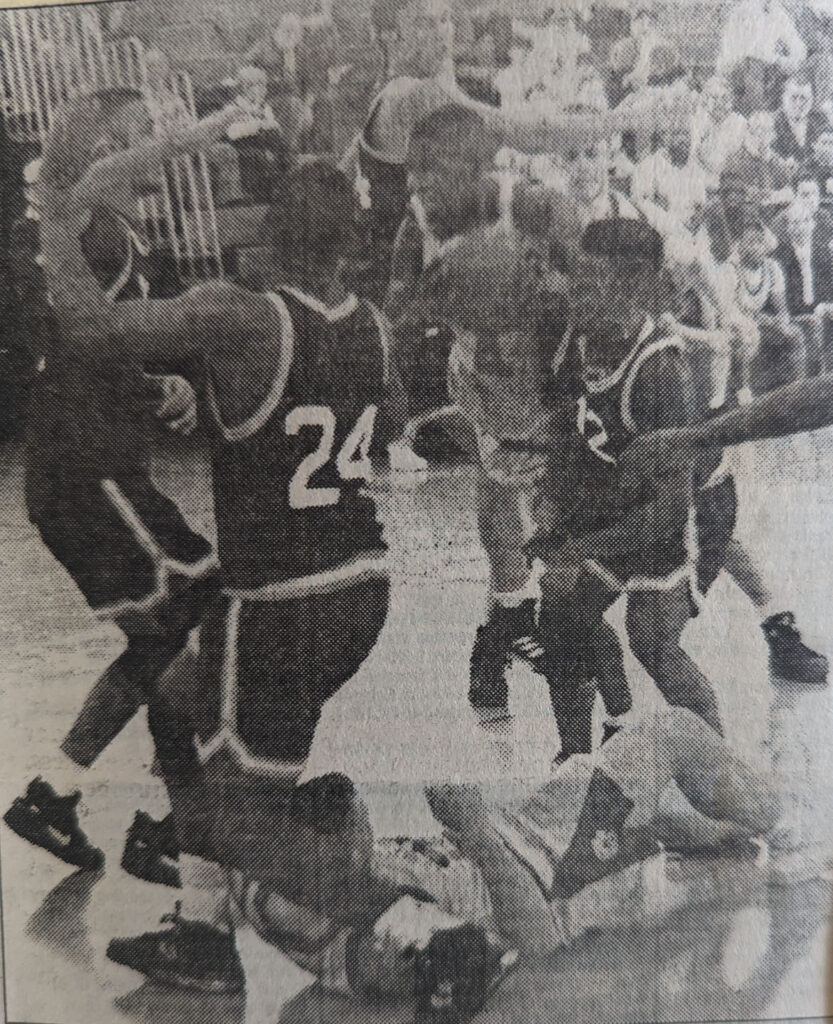 "I know that Coach Jones always suggested that we 'get in shape' and maybe lift weights, etc., but nothing was ever mandatory or scheduled. I look at schools today that have actual WEIGHT PROGRAMS, something we did not have at Tech (maybe it did not exist at any Buffalo Public Schools?). I do agree that Jones kept us aerobically conditioned during the season. He did keep us running, etc. And I always appreciated the early morning free throw shooting. Until this day I remember that and think that was an excellent practice."
No. 30 Jermaine Fuller and I were teammates for the 1991-92 and the 1992-93 seasons. I didn't interview him verbally as I did most of the other players. He graciously answered the questions I shared with him electronically though. He pointed out that Coach Jones indeed highly encouraged us to lift weights and get stronger. "A good strong player is better than a good weak player," Coach Jones told us all the time. There was however no formal weight training program for us though. This meant that most of us were left to our own devices and had to figure it out, if at all.
Carlos James Gant, Player, City Honors High School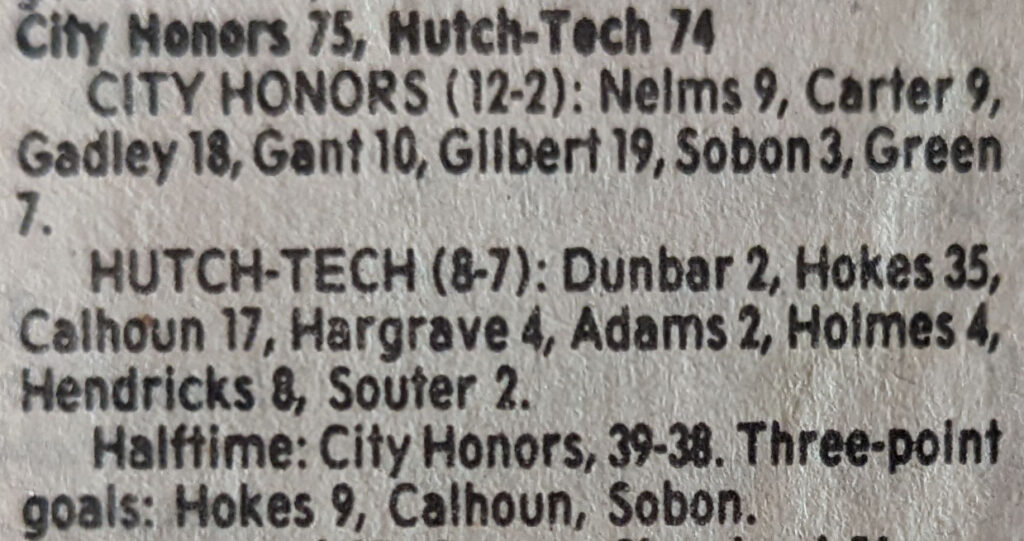 "If I could do it over again, I would – I think one of the things I personally conceded was – it had to be the system. I think the system helped us be successful. What I learned more in my senior year is that you still have to be you as an athlete as well. As an example, there were times when you had to sacrifice parts of your game for the team and I'm all for that. But I think you can also get lost in that. There were times when I could've been more aggressive offensively and defensively. We played within the system."
When I was at Hutch-Tech, the City Honors Boys' Basketball Team followed a similar trajectory to our 1990-91 team. They improved every year and matured into a competitive team by the time the core of their team were seniors. One of them was Carlos James Gant. In our interview he spoke to something that I didn't figure out during my short window playing the game. That is figuring out how to play in a system versus just playing and then switching between the two. It's something many players struggle with and don't figure out until they're done playing.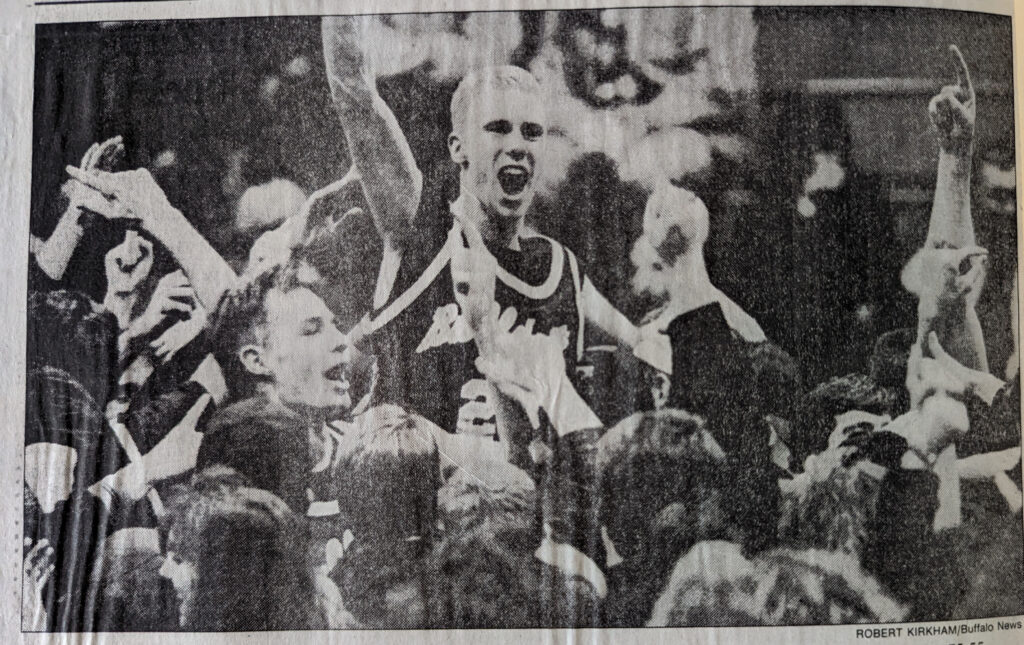 George Gayles, Player, Bennett High School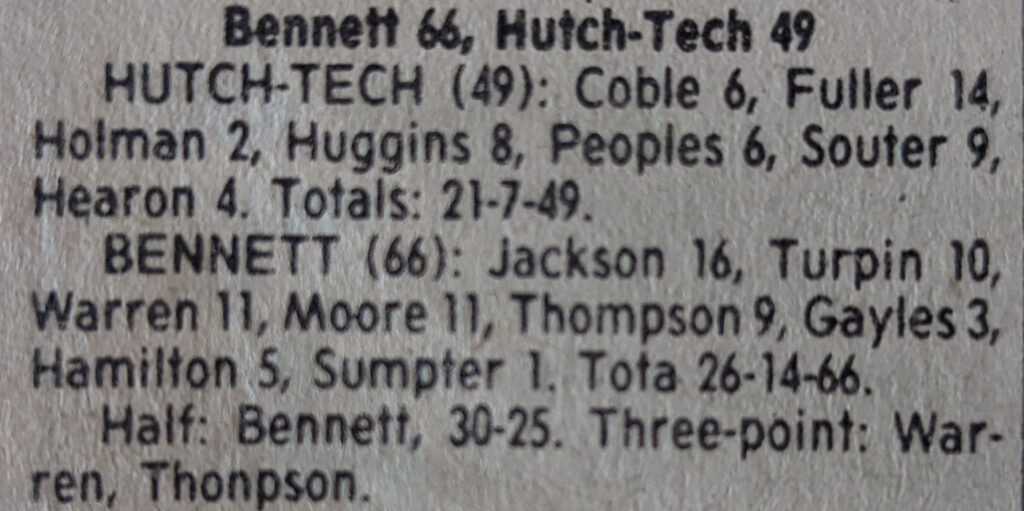 "After the Festival of Lights game, Veronica (Coach Larry Veronica) said I had a nice arc on my shot. He said, 'I have him because he shoots really well.' My shot was terrible at that time. He also may not have had enough people, and he saw that I had an eagerness for the game and a heart and a willingness to learn. Students like that, you can't not let them on the team. I would rather have ten kids like that than a couple who have a horrible attitude and are uncoachable. The two people we had on our team that year were really good. Years later when I met up with them at Shoshone Park, one asked, 'It's like that now?' I was able to keep up with them now and it wasn't like that in high school."
Like Coach Quinn Coffey, I met George Gayles at SUNY Brockport. George played for the Bennett Tigers under Coach Larry Veronica. George described himself as a 'project' in high school like me at Hutch-Tech. He wanted to play but was undeveloped and learned where he could. In our interview, he described how Coach Veronica saw that he wanted to play and had a willingness to learn. George further went on to discuss how he looked for coachable players himself years later. He further talked about how he met up with two of the best players on his Bennett teams years later and had grown to their skill level. Our growth as players continues often times beyond our organized playing days.
Anthony Harris, Player, Burgard Vocational High School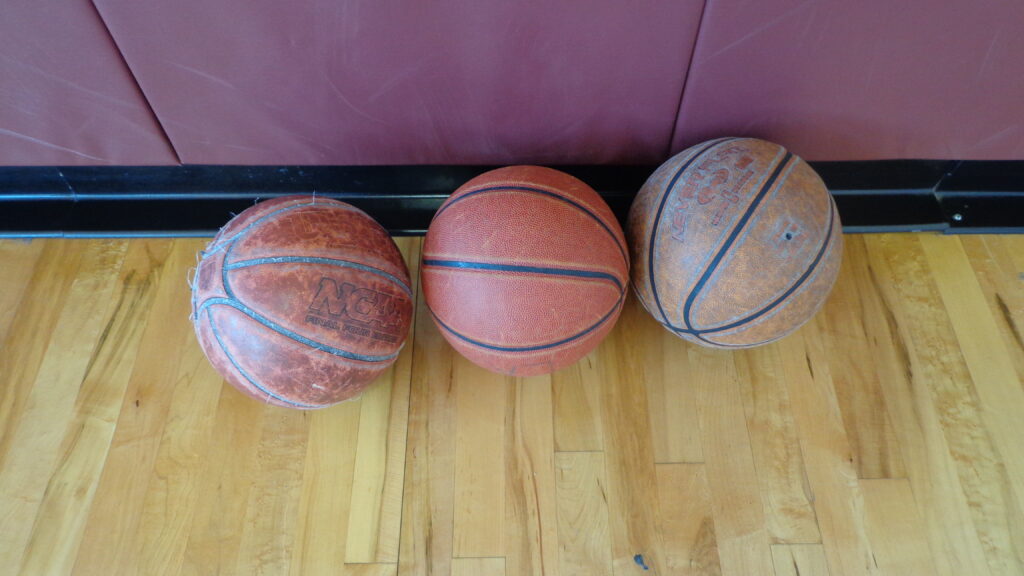 "But back then when we were juniors, there were some pretty good ball players. Emerson had a good team. They had Glen Mayfield, Paul Tolbert. As a matter of fact, do you remember Bernie Tolbert? The FBI guy? His brother played basketball. He was a guard. Paul Tolbert, he was sweet. They were some pretty competitive dudes back then. As a matter of fact, Phil came out after me and was playing. I think he got rookie of the year on the freshman team at Bennett. As a matter of fact, he might've cracked the varsity team when he was a sophomore. I'm not sure but oh yeah, they were pretty competitive back then. And then Lafayette had this guy named George Stevens, a dark skinned brotha. He was bad!"
A part of my story is discovering key information about family by accident and after it's needed. I didn't discover that my Uncle Anthony Harris was himself an accomplished basketball player back in his day. He played alongside Eugene Roberson at Burgard and even matched up with Bennett's Bob Lanier during those years. During our interview, we discussed the Yale Cup and Buffalo basketball from years past. It was the era of the Buffalo Braves and when there was only one court at Delaware Park.
Ed Harris, Player, Riverside High School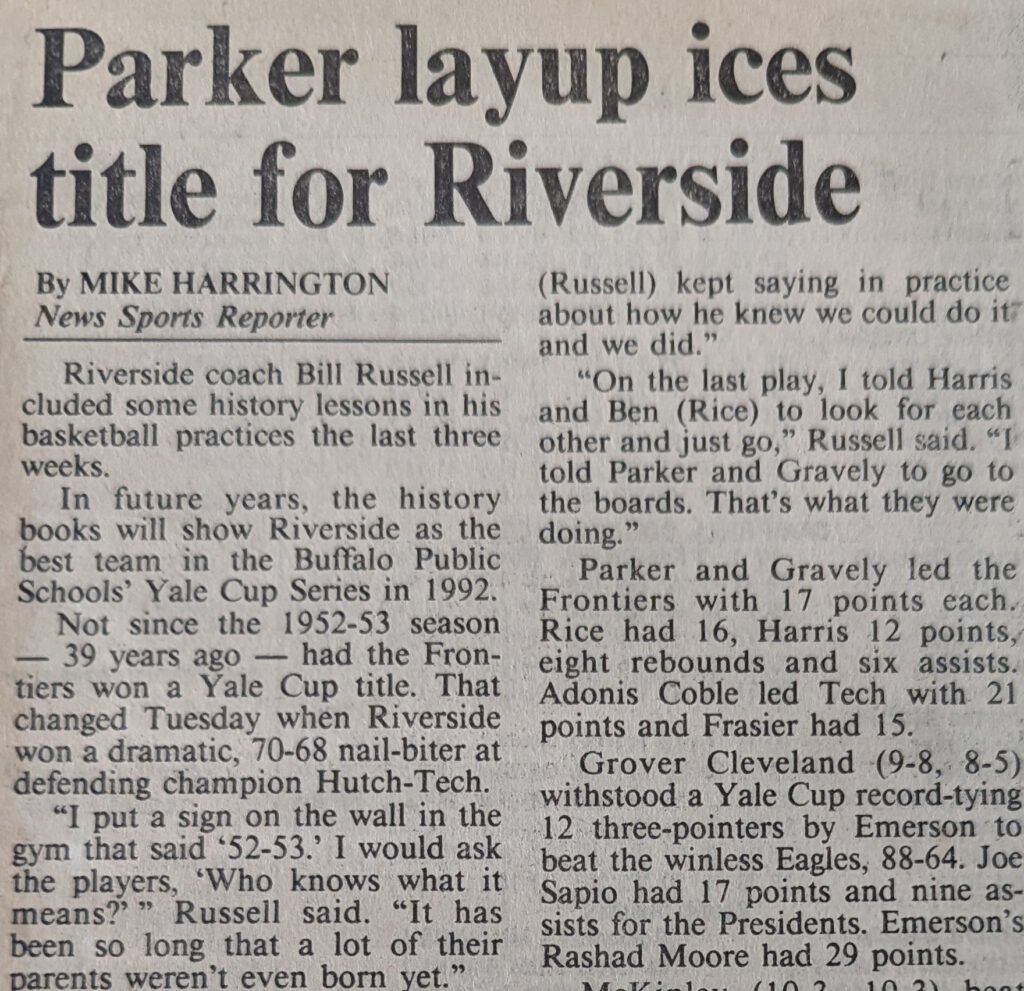 "I went to camps every year. Russ made sure of that. Most of all of us went to the local camps, the Canisiuses, the University at Buffalos and the Buff State camps. We all went to those. I don't know if Russ and those local colleges had some sort of agreement, but we were all at those and I can't say that was the case for all the other city schools. Like I said, we were one of the only schools that had a 20-game schedule. Russ did a little bit more than the other coaches did. I think he knew the significance of it, I would say – to get that exposure, to get us out into those games to see those different environments which helps when you go away for school. You're not just out in the city playing city games. You're experiencing their culture, the suburban culture."
The 1991-92 Riverside Frontiersman won both the Yale Cup title and Section VI Class C Championships. One of their leaders was the versatile Edmund Harris. Like a lot of teams, the Frontiersman ascent was gradual. During our discussion, Harris' description of Coach Bill Russell reminded me of Coach Ken Jones. They were both students of the game. They cared about their players, gave thorough instruction and meticulously their schedule their games each year. In both instances, their efforts weren't always appreciated at the time.
Frankie Harris, Player, Hutch-Tech High School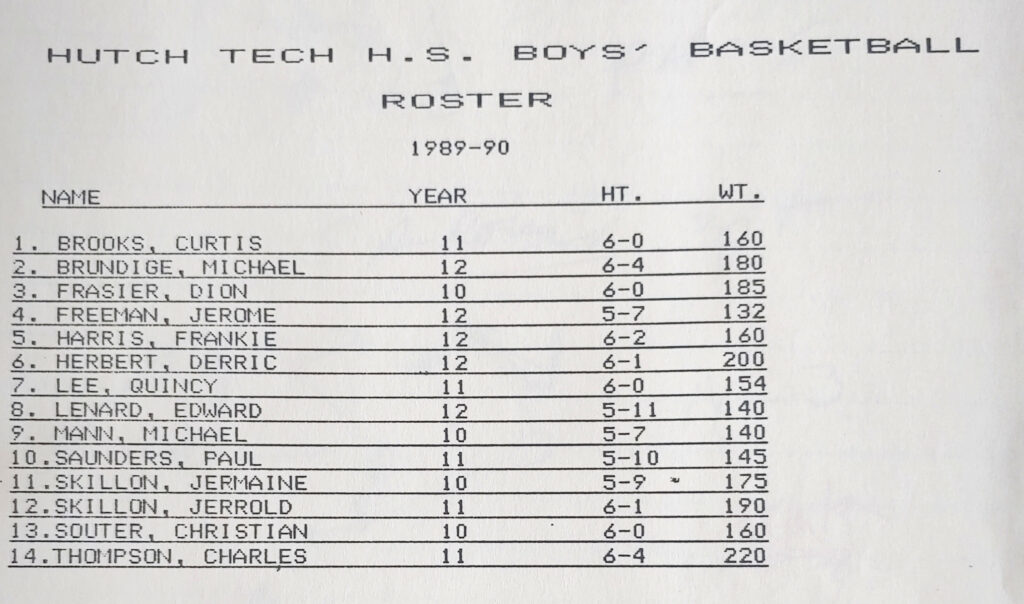 "Mike Brundige had a lot of talent. He also had a little attitude, you know what I mean? He was about 6'5". And he can still get up and down the court right now. In the 40 and over league, he can get up and down, and I think he can still dunk! But he didn't always buy into what Coach Jones was trying to do. With Coach Jones you had to be disciplined in terms of being a team player and sometimes he would just get on you. And he didn't handle that well. So he had his days, but he was a good basketball player. Jerome Freeman and Ed Lenard, they came off the bench. They gave us defense and energy. They were defensive stoppers. They were quick! They were team players."
My essay discussing the 1990-91 Hutch-Tech Boys' Basketball Team and their magical acknowledged two groups of players. I acknowledged those who took the court that season. I also acknowledged those who were instrumental in building the program but graduated before the championship years. That happens with many championship teams. One of the players was Frankie Harris whom I met Coach Jones' funeral service. In our interview, we talked about a player named Michael Brundige. He was physically gifted but butted heads with Coach Jones regularly due to his attitude and temperament. Mike was 6'5" and very athletic though. Many coaches face the dilemma of keeping highly talented players even if there will likely be personality conflicts.
Keith Hearon, Player, Hutch-Tech High School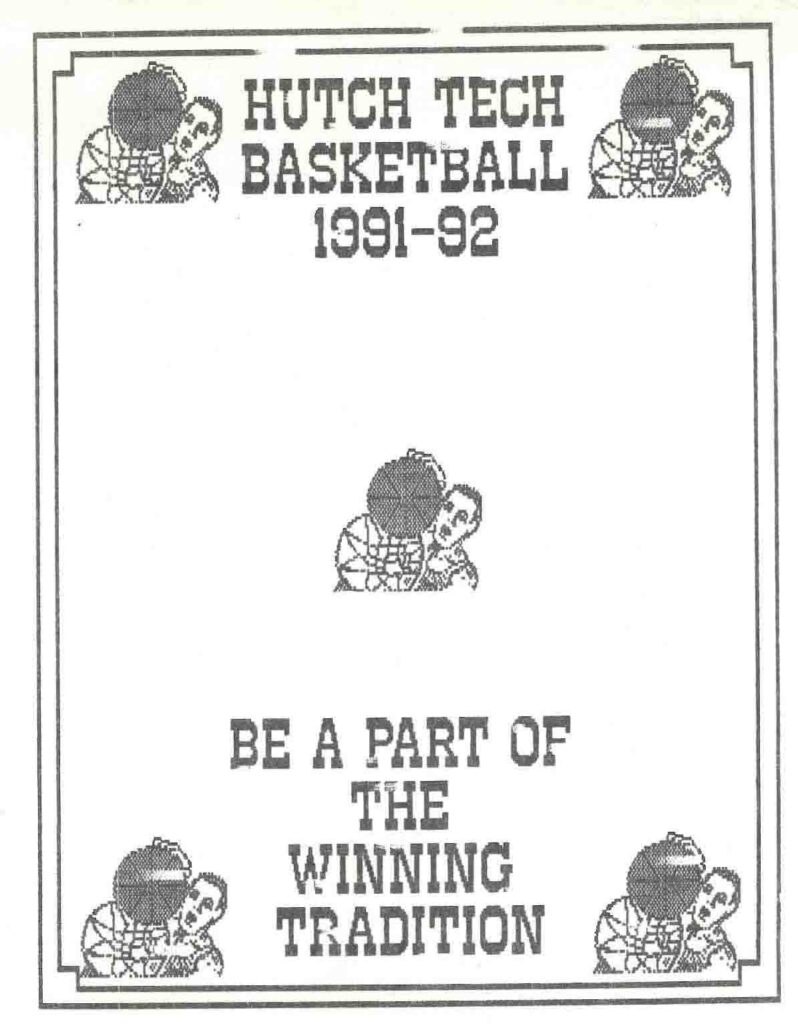 "It definitely taught me that nothing comes for free (the game of basketball). You have to work hard. You have to pay your dues for the benefit, and nothing is going to come for free. You have to work hard if you want the success. And then really life and basketball are not too far disconnected. That's something that kind of stayed with me. They go hand in hand. Every lesson in basketball is a lesson about life."
Keith Hearon was a teammate on the Hutch-Tech Boys' Basketball Team for the 1991-92 and the 1992-93 seasons. A member of the Class of 1993, he was a year ahead of me. "Stretch" as Coach Jones referred to him my junior season was mature and even keeled personality-wise. He was a wiry 6'5" and played center for our team and was very reliable. This quote from him once again captures the essence of my book project. Hard work is involved in most anything worthwhile activity or goal in life. Finally, basketball and life are interrelated. The game teaches you about life.
Derrick Herbert, Player, Hutch-Tech High School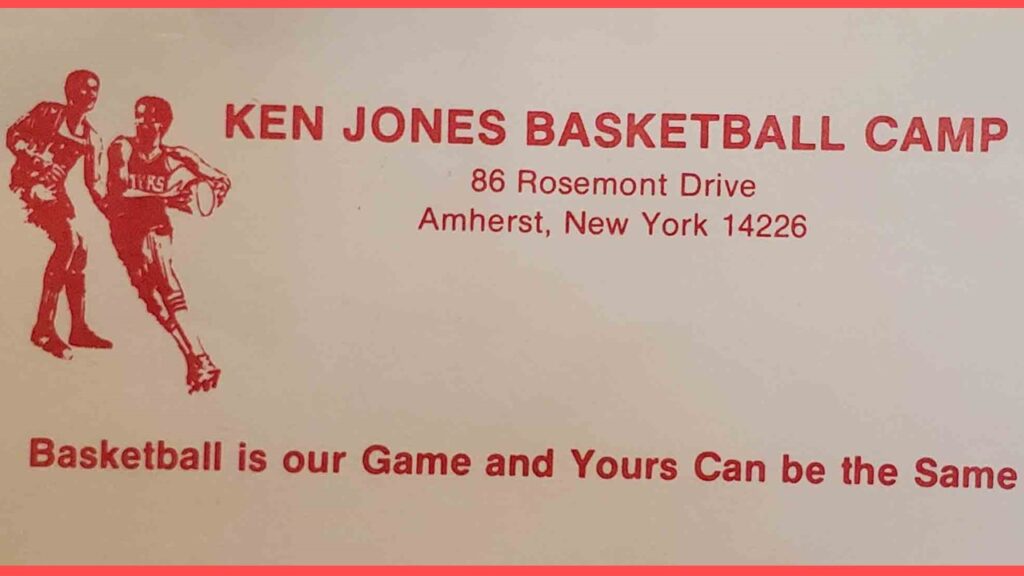 "I think he (Coach Jones) and I got along because I was that guy who was always on the floor diving for loose balls and taking charges. Whenever 'Ice Cream' (Marcus Whitfield), or Nigel (Bostic) who were some of the best players in the city at the time in the public school system, when we played those teams, I had to guard them – and I got lit up a lot too. But I think that he appreciated that I was willing to take on that challenge because I would dive for the loose ball, this, that and the third and our relationship was pretty cool. It did have its contentious times. But for the most part we had a good relationship. I pushed back a little bit, but he would always have his ways of getting his point across and in hindsight, he was always right."
"You have to talk to D-Herb!" Jerrold 'Pep' Skillon told me that I need to talk a senior from the 1989-90 Hutch-Tech Boys' Basketball Team at Coach Jones' funeral service. I had only seen Derrick Herbert in pictures like the other members of this class. I acknowledged them in my essay dedicated to the 1990-91 Hutch-Tech Boys' Basketball Team. They helped lay the groundwork for the 1990-91 championship season. In our discussion, Derrick talked a lot about Coach Jones, and their relationship. As with many of the players, it wasn't a 100% smooth all the time. He ultimately appreciated Coach Jones, his coaching and his teachings though.
Reggie Hokes, Player, Hutch-Tech High School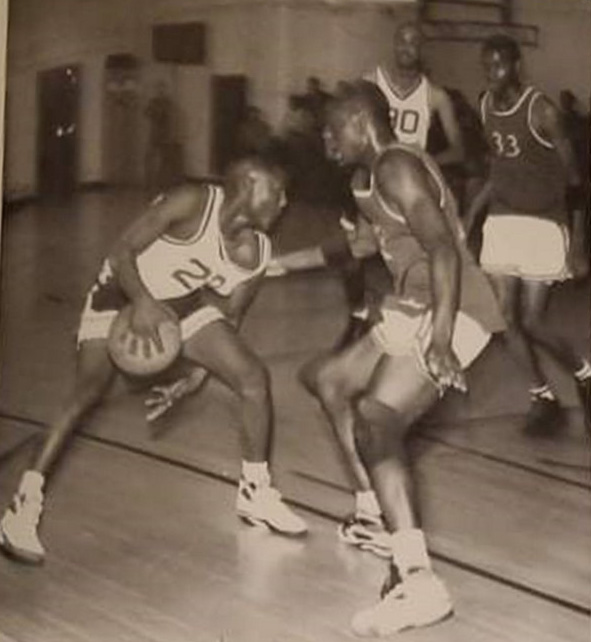 "Yes, I knew I wanted to play varsity basketball right away. I knew about Ritchie Campbell and Cliff Robinson. I knew about those guys. I heard about Christian Laettner. I was familiar with Trevor Ruffin because we had a park called 75 and they would come down and play and they'd call it 'Live at 75', and they used to have games down there – Ritchie and all of them would have summer league games. Ritchie actually stayed around the corner from me. He stayed in the Willard Park Projects, about five blocks from where I stayed on Emslie."
I first saw No. 22 Reggie Hokes play basketball at the William-Emslie YMCA. He was a pass first point guard, and I was amazed at this ability to assist the ball like Magic Johnson in the open court. I enjoyed playing with him as he always looked for you in the open court on fast breaks. He came to Hutch-Tech during a bit of a youth movement where underclassmen fought to play right away. This was in large part inspired by the University of Michigan's Fab Five. In all my interviews, I asked the guys who their influences were. Some names came up regularly in terms of the Buffalo basketball. One of them was the great Ritchie Campbell as was in Reggie's case.
Earl Holmes, Player, Hutch-Tech High School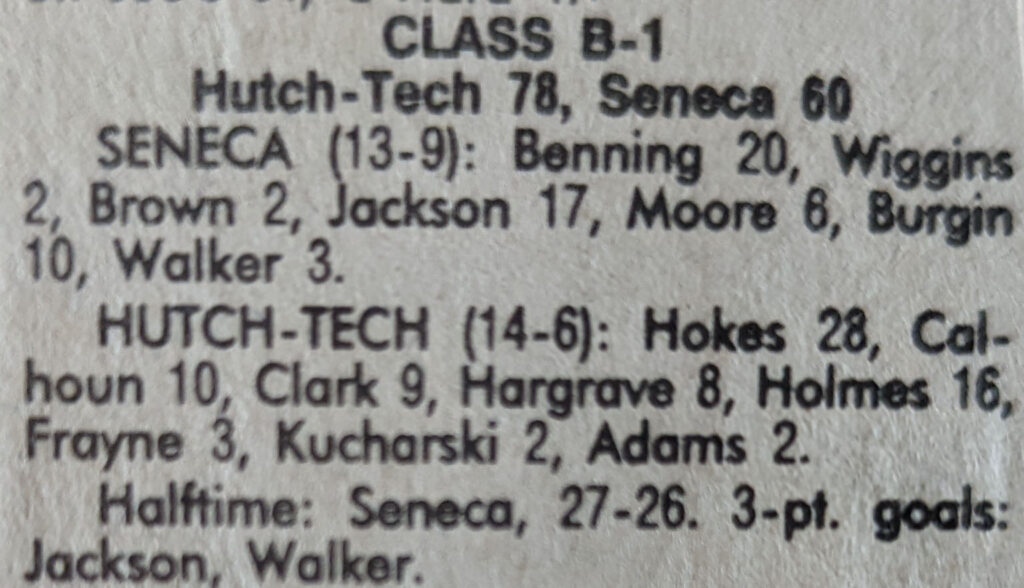 "He (my father) said my grades weren't up to par so he didn't let me play anymore that year. He told me if I couldn't keep a GPA and play, then something had to go. That sophomore year was the same and first year I played football too. So, he was like, 'If you're gonna play all these sports, you'd better make sure these grades are up to par. As of right now, basketball is off the shelf. I can't do anything about football because football season is over with, but if these grades don't improve during the school year, then you won't be playing football either. I was an A student all my life. I just chalk it up to normal teenage rebellion. I was having some success, so I felt like I didn't have to work as hard and I wasn't putting all my effort into my elective courses."
Earl Holmes was an outspoken multi-sport athlete from the Hutch-Tech's Class of 1995 (football and basketball). We were teammates on the 1993-94 boys' basketball team. We were almost teammates on the 1992-93 team. His father "Big Earl" took him off the team because his grades slipped below the Honor Roll level. This always stood out to me because I didn't have a stringent requirement academically in my home. My grades were average my entire four years, and I wouldn't have made the standard in Earl's house. Academics tripped up a lot of players, me included that year. Some parents mandated their kids not just do enough to get by, but to excel academically. That was the case with Mr. Holmes.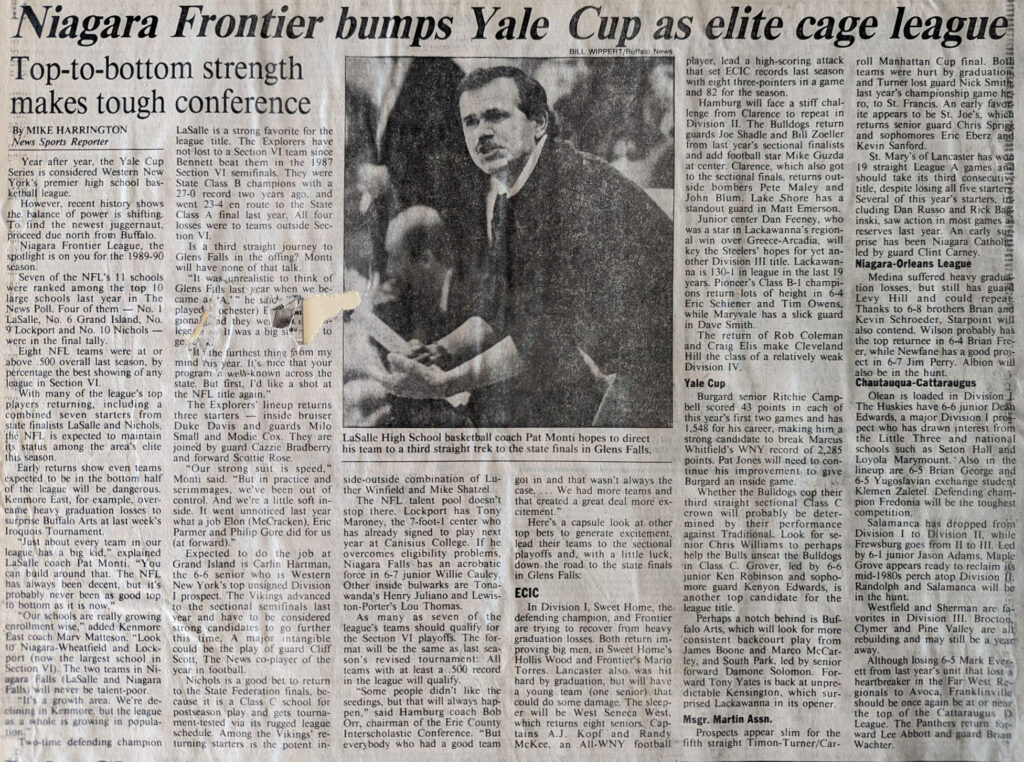 Ronald Jennings, Player, Campus West and Turner/Carroll High School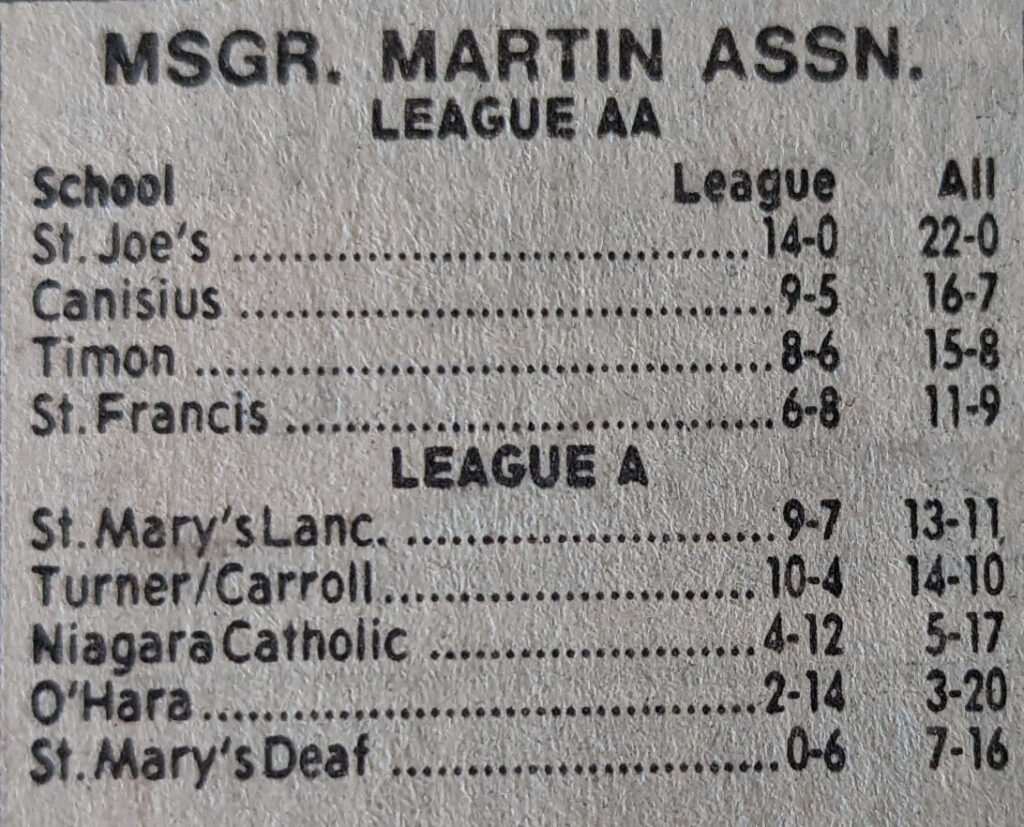 "My first two years I was playing both football and basketball. I was playing freshman-junior varsity ball with coach Fred Bachelors. Fred is now the head coach at the University of Maryland-Eastern Shore. And then, in my junior year, I dedicated myself to football. Actually, my first two years, I played football, basketball and baseball. And then my junior year, I just played football and baseball."
Reverend Ronald Jennings was my first ever point guard in an organized basketball setting. We were teammates for two years on the Campus West/College Learning Laboratory Bengals Boys' Basketball Team in middle school. I looked up No. 21 and was in awe of him. I didn't know how to develop so that I could play alongside of him and contribute to the team. This is a key theme throughout my journey/story. Ronald coincidentally assisted my first basket in an organized game, something I can still see in my mind today. While I went off to Hutch-Tech for high school, Ronald went off to Turner/Carroll. There he played football, basketball, and baseball before focusing completely on football. Afterwards, he focused completely on his Christian faith and ministry.
Brandon Jones, Player, Hutch-Tech High School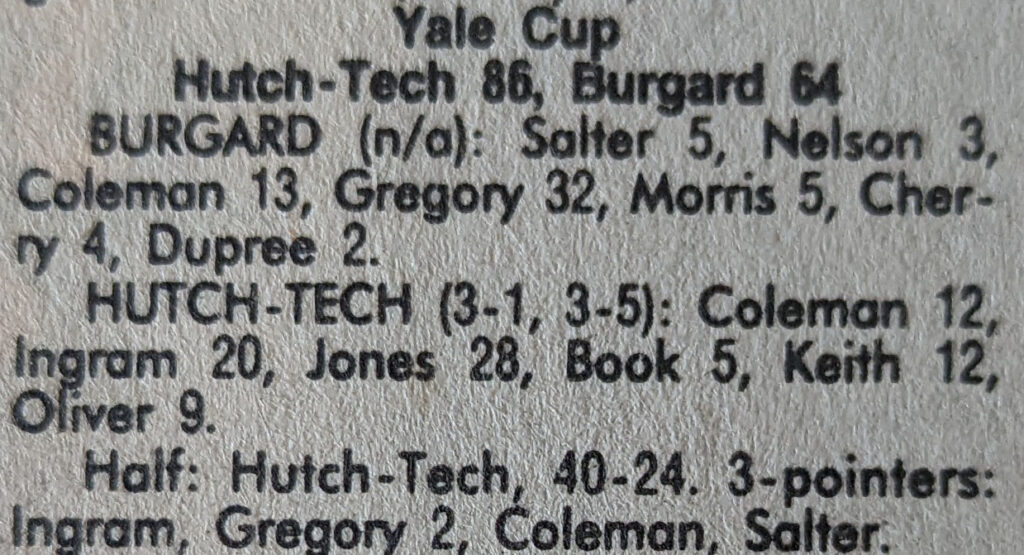 "Neither of my parents were athletes, so they were like, 'You're playing basketball, we'll come to the games.' They weren't necessarily coaching me up. So, he (Coach Richardson) was the first one to see something in me that I didn't see in myself yet. And he rode me hard. I was not allowed to play in gym class as a senior. He'd say, 'I want you jumping rope! I want you doing this or that. You're good enough to play at the next level, and I think I can get you there, but you've got to want it. Stop being lazy!' He was really hard on me and at the time I thought, 'Why in the hell is he doing this?' And now 20 years later and I can't believe I was saying that. I can look back and say, 'I know why he was doing that.'"
I didn't overlap with Brandon Jones in terms playing on the Hutch-Tech Boys' Basketball Team. Brandon was a versatile front court player who could put the ball on the floor and shoot it from long-range. I wanted to know what the basketball program was like at Hutch-Tech after Coach Ken Jones retired. Coach Francis Daumen (above) took over for my senior year and then stepped down opening the way for Coach Richardson. Thus, it was educational to talk with Brandon to understand what things were like under Coach Richardson's leadership. Like a lot of players, Brandon didn't understand why Coach Richardson was hard on him. The same was true later with Coach Dick Bihr at Buffalo State College who yelled at him constantly. Later, like a lot of players, he realized that it wasn't out of contempt or malice. It was done to get the best out of him.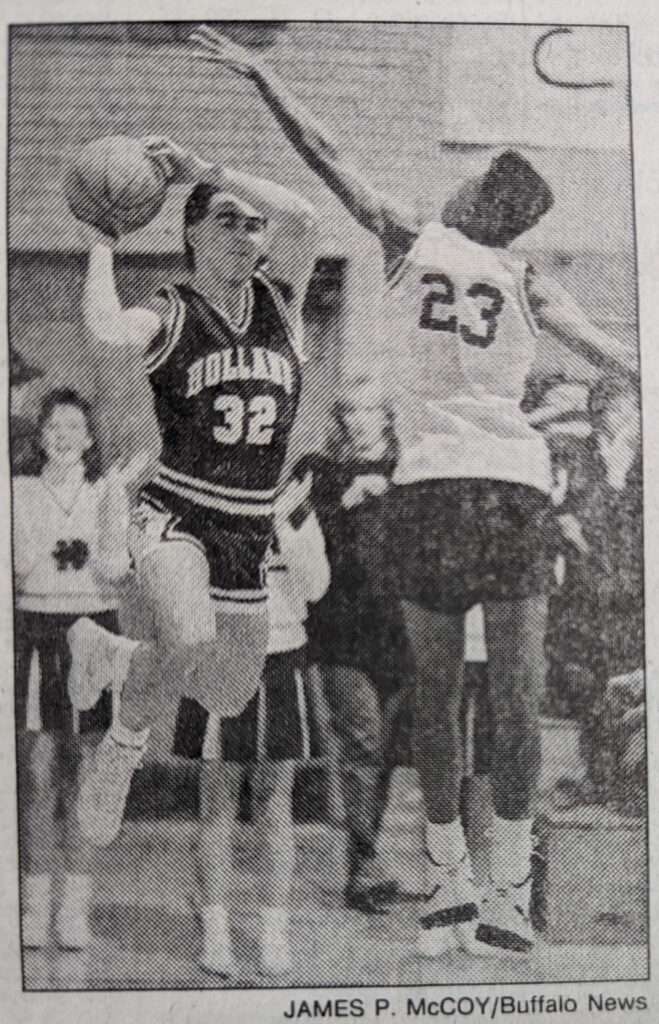 Quincy Lee, Player, Hutch-Tech High School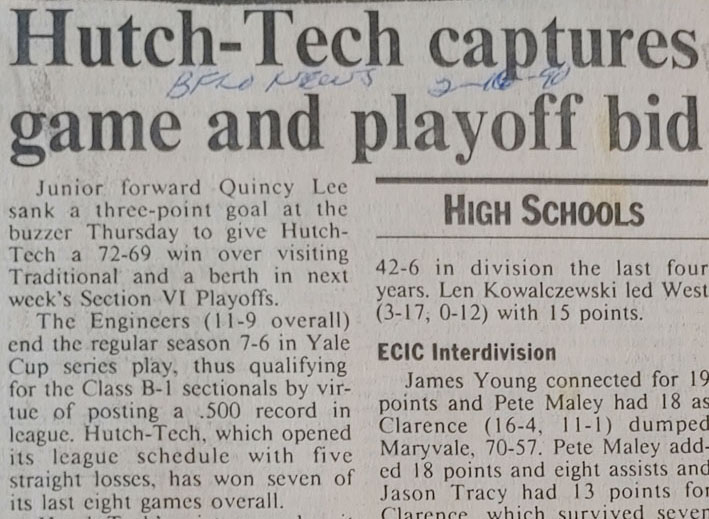 "Curt Brooks? It was his first time making the team, sophomore year. He had a chip on his shoulder because he didn't make it freshman year. Curt Brooks was vicious. Curt Brooks was going to go the distance with anybody. He was dedicated and the thing is, I ended up moving with my father in my sophomore year and moving around the corner from Curt Brooks. Me and Curt Brooks, you go to the park and play every day, winter time, it didn't matter what temperature it was or what was going on, we would play every day just trying to get better to make sure the team was better. Curt Brooks never stopped trying to get better. EVER! He was a worker and definitely motivated. Jones loved him too. He loved Curt. Curt earned it though. He was a hard worker, and he was 100% into basketball."
No. 11 Quincy Lee was one of the seniors on the 1990-91 Hutch-Tech Boys' Basketball Team. Coincidentally he also attended Campus West but was four years ahead of me. He agreed to be interviewed after reaching out to him on Facebook. He told three of the other seniors what I was doing and opened the door for me to interview them. I looked at the 1990-91 team as a utopia. Quincy revealed that playing for Coach Jones wasn't a bed of roses which was helpful to learn for perspective. He loved the game and wanted to play though and toughed it out. The support of his teammates and faculty members helped as well. He eventually settled in and got back to playing his game. In addition to discussing Coach Jones, he spoke very highly their point guard No. 13 Curtis Brooks (discussed above).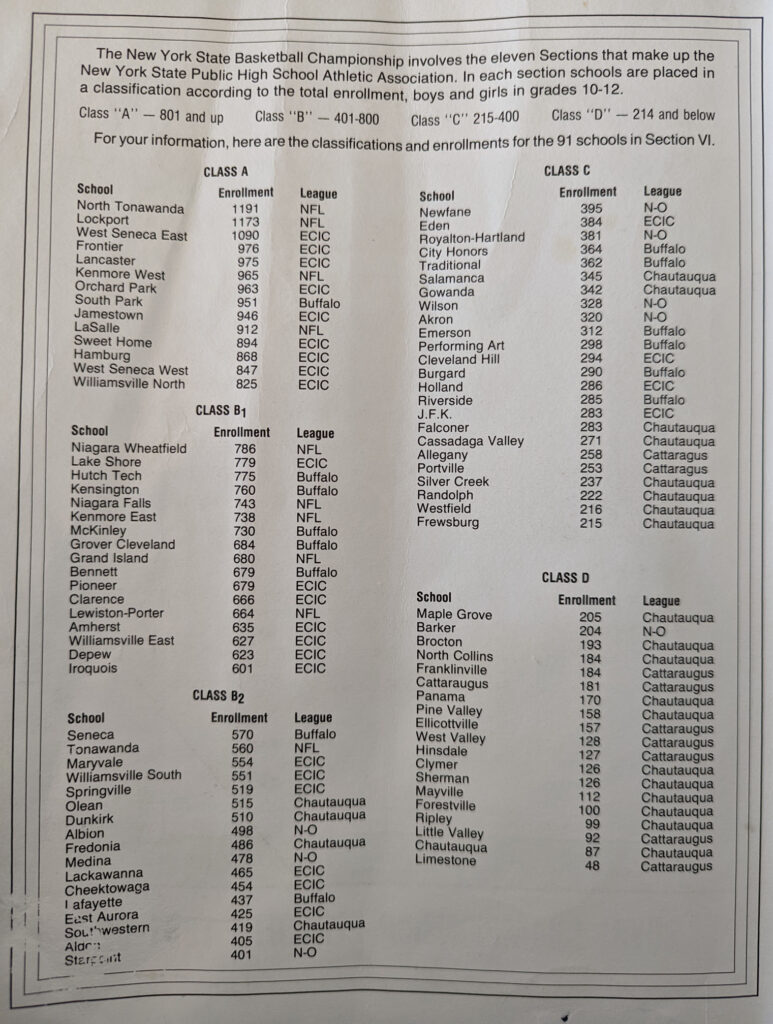 Pat Monti, Coach, LaSalle Senior High School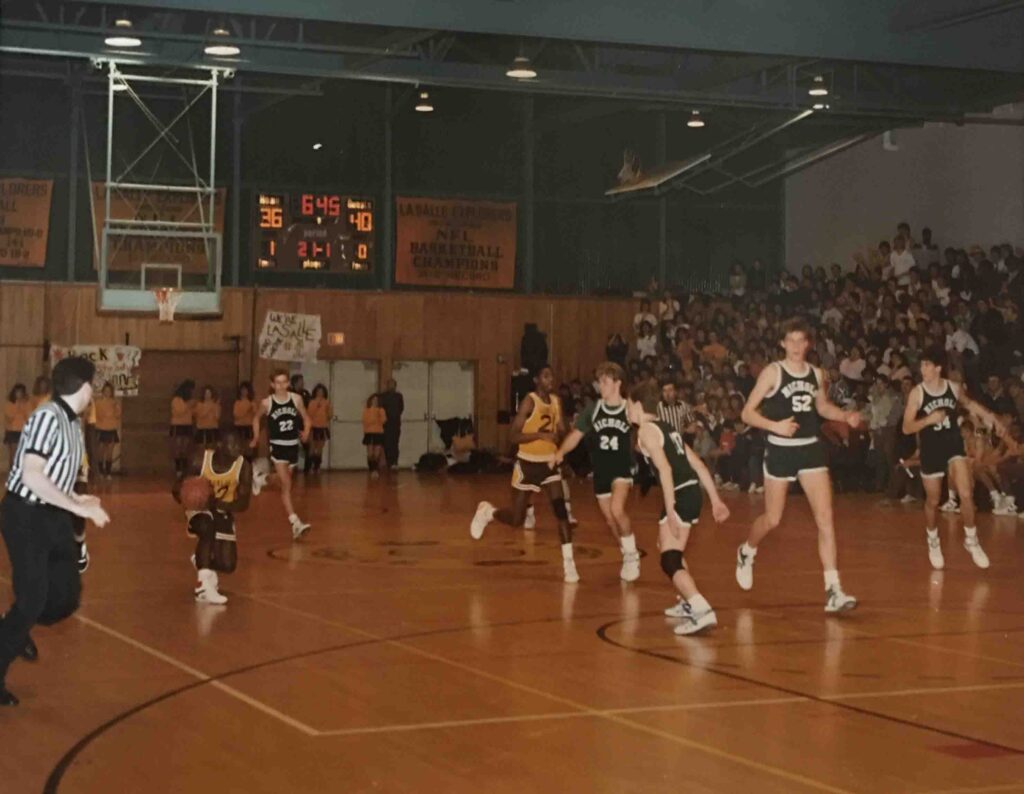 "Everyone was there – Mike Kryzewski (Duke) and Digger Phelps (Notre Dame) – all the bigtime coaches. It was a game for the ages. I can still see it as if it was yesterday, and it was 1988. Nobody led by more than four – they didn't take us for granted this time – they were very well coached. It was back and forth, back and forth – just an incredible high school basketball game. I think that with about a minute or so left, we might've been up four. They came down (Christian Laettner's Nichols team), scored, called time out and cut it to two. I only had one time out left and I've always taught my young coaches to save your time outs for the fourth quarter. If you know, you're going to be in a tight ballgame, don't waste time outs. It's amazing how simple it sounds and how important it is in coaching."
My first-time seeing Coach Pat Monti's LaSalle Explorers play was in a lopsided loss they handed our Hutch-Tech team. It was in the 1991 Festival of Lights Tournament in their gym. They were in the middle of 10-year run in which they dominated the Section VI Class A playoff bracket. They were our area's regular Class A representative in the Far West Regional game with the Rochester area champion. At stake was a trip to the Final Four in Glens Falls. Coach Monti saw many great players over the years on his bench and his opponent's. This excerpt from our interview discussed one of LaSalle's many matchups with Christian Laettner and his Nichols teams. LaSalle won the New York State Class B Federation Championship after defeating the Vikings.
*To read the full interview, see parts one, two and three.
Roderick 'Spanky' Peoples, Hutch-Tech High School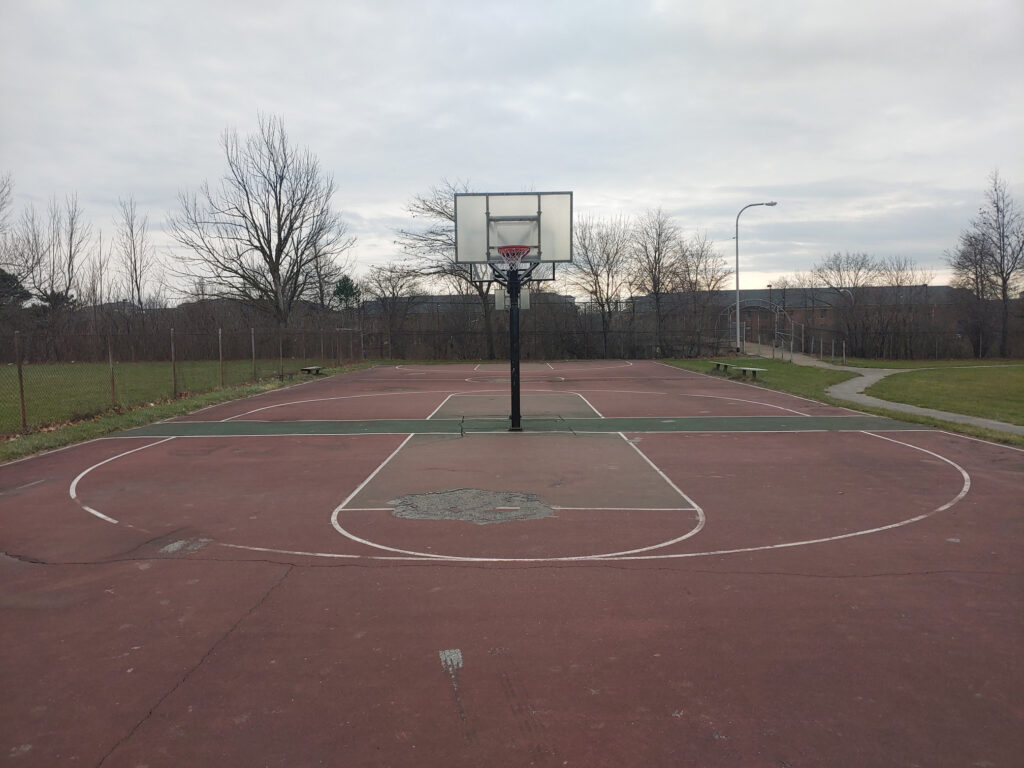 "I started playing basketball when I was about 10 and I thought I was pretty good. It wasn't until meeting Adonis Coble for the first time and getting cremated by him and two others in a game of three on three, that I became serious about improving my game."
Roderick 'Spanky' Peoples was a first-year player along with me and other on the 1991-92 Hutch-Tech Boys' Basketball Team. He played football as well and had quite the motor, bringing a fearlessness and intensity. Like a lot of guys from his Class of 1993, he had a bit of a mischievous side. I admittedly didn't know what to make of him at times. Going into the 1992-93 season, his senior year, and my junior year, he developed significantly as a basketball player. I don't think that season turned in a way either of us expected. In hindsight, he taught me a lot about competition and toughness.
Brian Reith, Player, Hamburg High School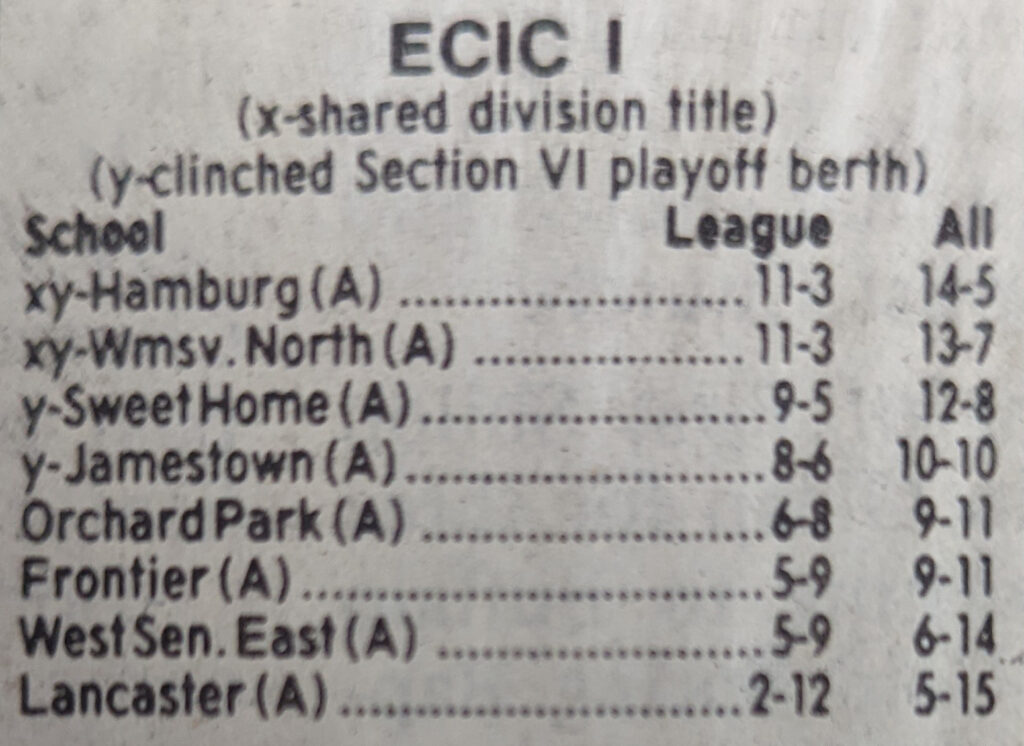 "But then when the season was over, we'd pick up our baseball gloves and jump into baseball season and play baseball. And then summer would come and then there would be this interesting mix between summer baseball leagues and then pickup basketball and there was always this combination. And when fall would come, some kids played football or soccer. I played volleyball, I was one of the few people and I loved that I did that. I wasn't allowed to play football. I wasn't big enough to play and wasn't going to do much good if I did, but we played three different sports and we didn't stick with basketball all year round. So, when it came back to basketball season, some of us were lacing them up for the first time in months, which I'm sure made it more difficult for our coaches."
Brian Reith was the only player from one of the Erie County Interscholastic Conferences (ECICs) that I interviewed. He reached out to me after reading my Carlos Bradberry interview. He and his Hamburg Bulldogs were quite familiar with the LaSalle Explorers in those days due to their many sectional matchups. It was big to talk to him because I wanted to know what it was like to play in one of the suburban conferences. I had driven past Hamburg numerous times but had never stopped there. Most of the suburbs of Buffalo felt like distant worlds to me. In this excerpt from our interview, Brian discussed what he and his teammates did in the basketball offseason. While other kids worked on their basketball games in the offseason, they played other sports. They didn't give basketball a serious look until the next winter.
Phillip Richardson, Coach, Hutch-Tech High School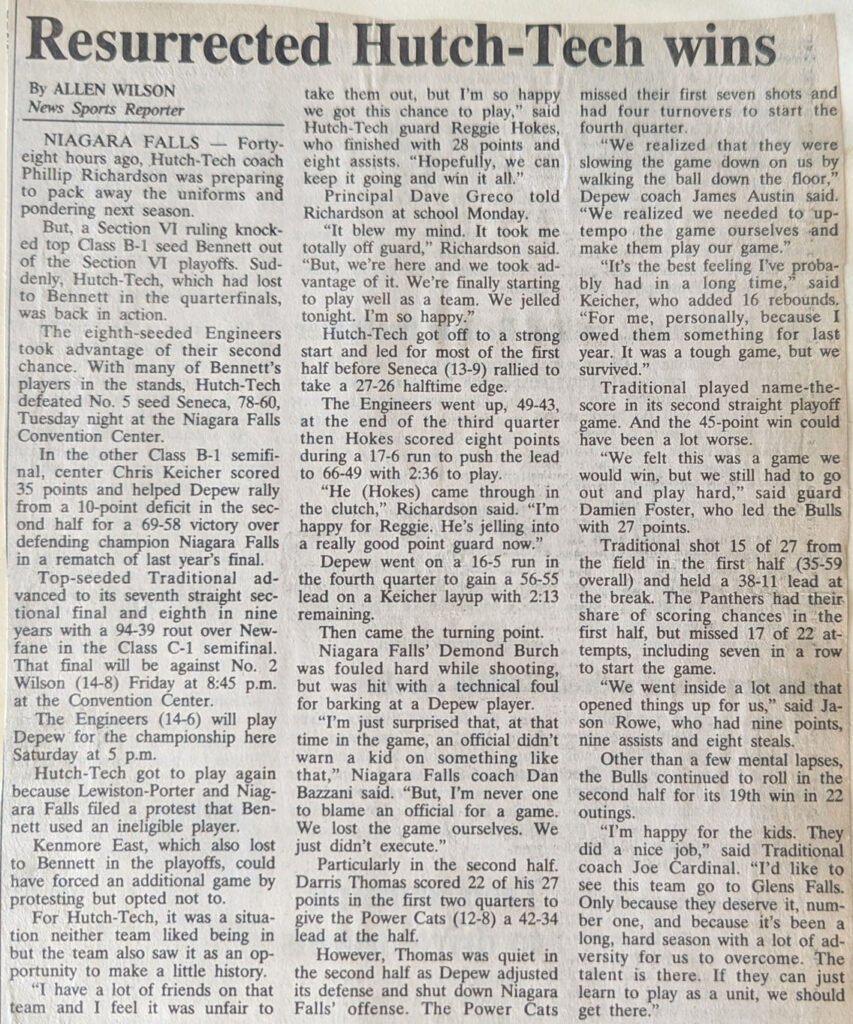 "The thing is I knew Reggie's father. I knew Earl's father. I knew Brian's mother and father. His mother's brother was married to your Aunt Melva. That was the connection. So, when I made them stay after to run wind sprints, nobody said nothing about, 'You're killing my kid!' No, they already knew that I wasn't a knucklehead and wasn't trying to be mean. So, I knew their fathers and some of their moms, and they knew that I had their best interests at heart."
A central theme to my project The Engineers is benefiting from the knowledge sets within your family (and not). Coach Phil Richardson is a second cousin on my mother's side. I didn't spend a lot of time around him in my youth prior to high school due to life circumstances. I thus didn't learn about his vast sports history until he arrived at Hutch-Tech in the fall of 1993. In hindsight, I could've benefitted from his knowledge years earlier. He didn't assume the reigns of the head basketball coach until the fall of 1994 after I graduated. He inherited a talented crop of players the 1994-95 season. Based upon similar backgrounds, he was the most well-suited coach to teach and motivate them of the coaches they'd had.
Jason Rowe, Player, Buffalo Traditional High School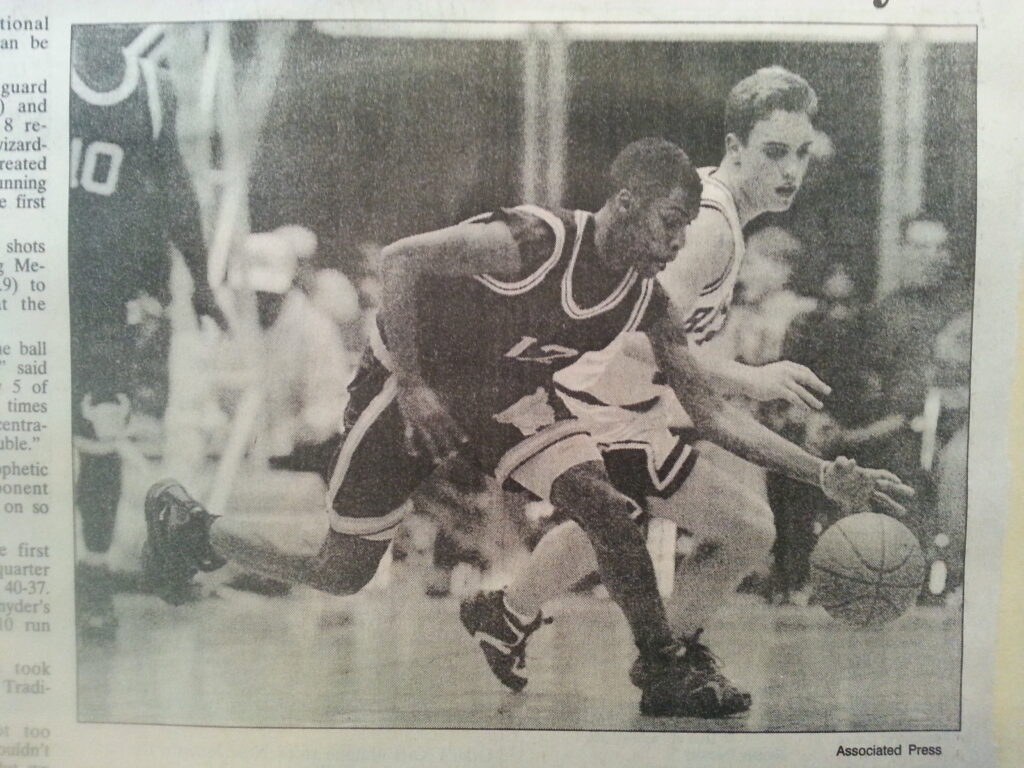 "Jordan, Isiah and Magic were the guys that I idolized in the NBA. In college I looked up to Kenny Anderson, Jason Kidd and Chris Jackson. Locally, I looked up to my uncle, Trevor Ruffin, and Ritchie Campbell. I looked at them and felt like I could do something. They were guys I could watch every day in a 'hands on' type of way. Trevor grew up across the street from me and he was like a 'big brother'. He played at the University of Hawaii, and he went on to the NBA, but I didn't look at him that way. This was the guy who, when he was in the NBA, would pick me up to go work out with him. We had that type of relationship where he was my big brother, and I was going to the house and watching TV with him."
I had already conducted several interviews by the time I got to talk to Bishop Timon's Coach Jason Rowe. I told him that his interview was 'the big one' as it lent credibility to what I was doing. We still laugh about it today. He, Damien Foster and the Buffalo Traditional Bulls became a force to be reckoned with in Western New York, across the state and beyond. In all my interviews I asked the guys who their influences were. Each had players they looked up to at the college and professional levels. Jason came from a basketball family, but he also looked up to two great guards from our area. They were Trevor Ruffin and Ritchie Campbell, two of the greatest guards to ever play in the Yale Cup.
*To read the full interview, see parts one and two.
Bill Russell, Coach, Riverside High School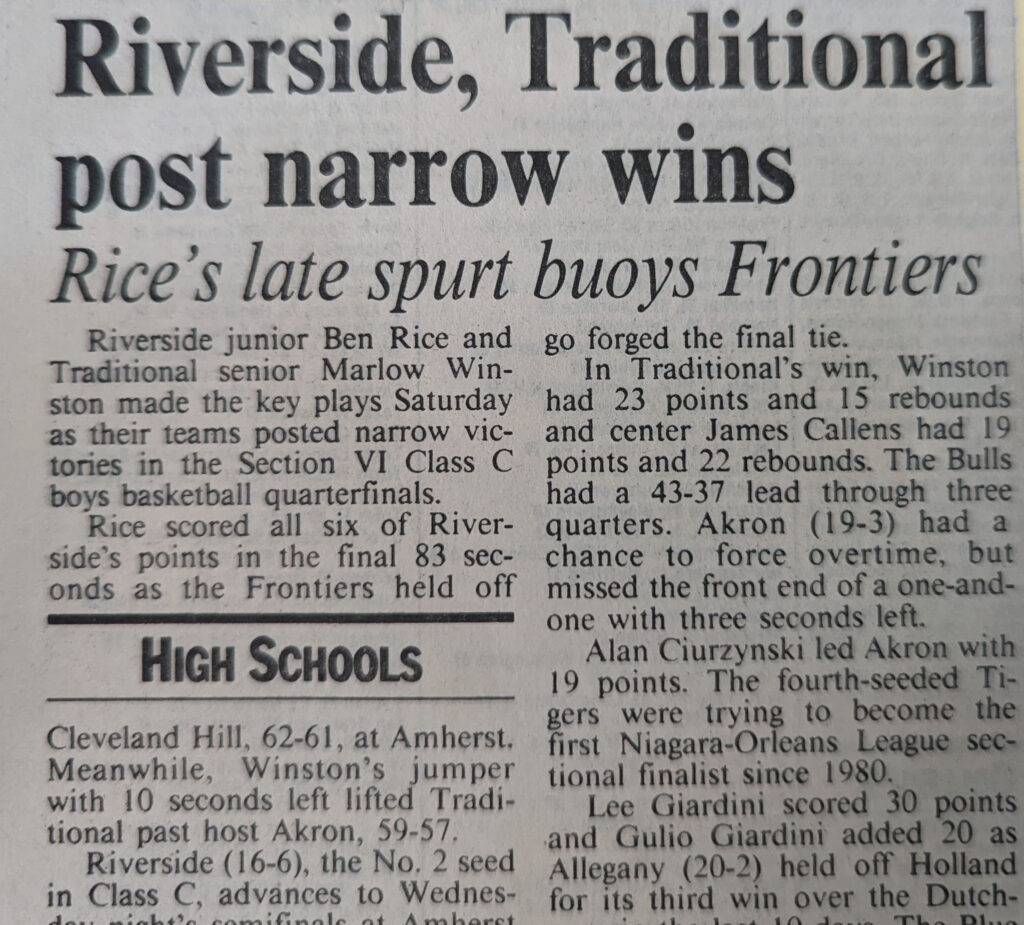 "My priority was defense. We spent a lot of time practicing that. We played primarily a lot of man- to- man, or a man- to- man trapping defense, not very much 2-3 zone. It was my least favorite defense, and we didn't play a lot of that. Defense was my biggest priority. I think we did a good job. When I say defense, I don't just mean man-to- man or each player was good defensively, but we really worked on the team concept of man-to-man defense. We spent a lot of time with that in practice. Offensively I had some structure. We worked really hard on having some structure. We also worked hard on having a team concept, team practiced fast breaks, so that was a big part of our philosophy as well. We worked on a lot of fast break offense, but we also had some structure to what we were doing offensively. We spent a lot of practice time on that too. Defense was a priority, but I thought we paid attention to some other details as well."
One of my final interviews for The Engineers was with Coach Bill Russell who guided the Riverside Boys Basketball Team when I was a player at Hutch-Tech. I didn't know much about the Frontiersman besides their clinching the Yale Cup title by beating us my sophomore year. Coach Russell turned out to be a student of the game and a basketball junkie like Coach Jones. He also cared about his players and wanted to make sure they had the best experience under his leadership.
Jermaine 'J-Bird' Skillon, Player, Hutch-Tech High School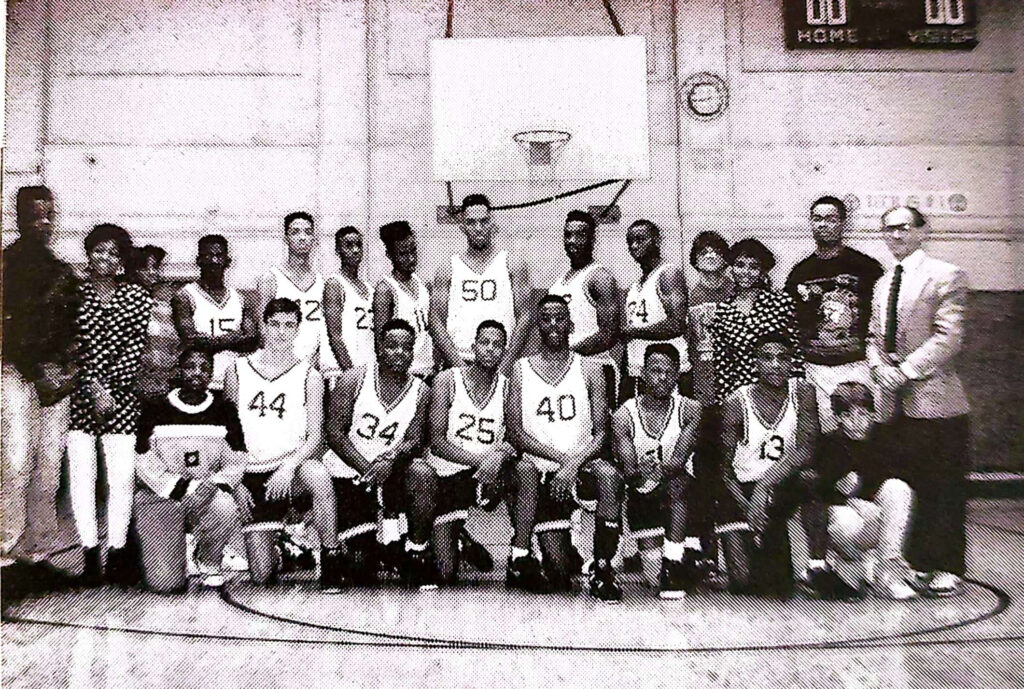 "I used to go on the bus trips with them when they would play in the holiday tournaments. I used to scrimmage with them. So, when I came in, Mr. Shae knew me. The seniors then, Kev Roberson, he was from my hood, so I knew them. Flash, I went to their tournaments, and I played with him, so I knew them. When I came in, Shae said, 'There's a new coach.'"
Jermaine 'J-Bird' Skillon played on the Hutch-Tech Boys' Basketball Team for three years. He was a member of the Class of 1992 like Reverend Dion Frasier (discussed above). He's the younger brother of Jerrold "Pep" Skillon discussed below. He played football and basketball and had lots of game on the basketball court. We didn't overlap as teammates. You'll have to read my story to learn about that but talking to him was valuable. It gave me a balanced perspective of the Hutch-Tech Boys' Basketball Team under Coach Jones' watch, like Quincy Lee's account. It wasn't always necessarily the utopia that I thought it was when looking on from the bleachers.
Jerrold 'Pep' Skillon, Player, Hutch-Tech High School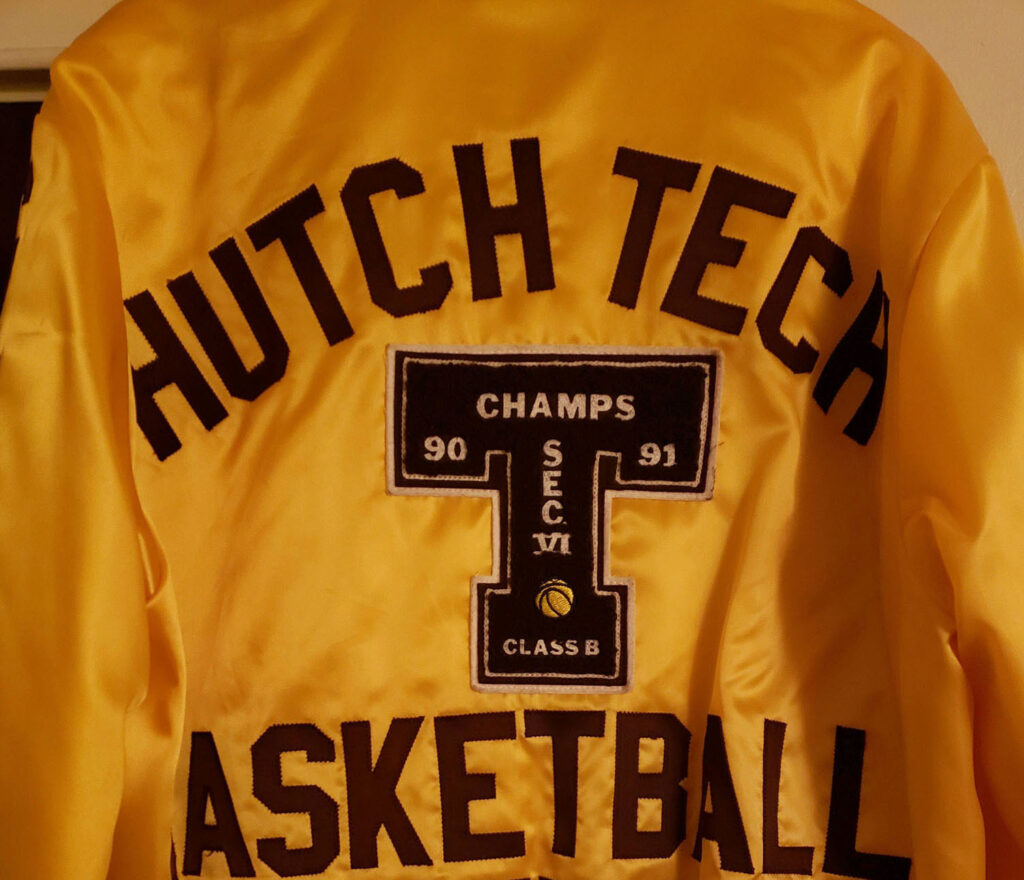 "Hey, I have a quick question for you. Did you watch John Calipari's 30 for 30 on ESPN? Well, what he said made sense. Sacrifice so your brother can succeed too. How can you be mad? If everybody wins off of it – I thought that was big when I saw that from Calipari. That does make sense. How many players felt like I held it back? But again, you sacrificed to win, and you sacrificed so your brother can receive. That's what makes LeBron good. LeBron is unselfish to a fault. There's no question he's the best player out there, but he wants to see his teammates succeed, and that gives them the confidence to certain things to help them win. Don't get me wrong. I get it if people think they could've don't better. I get it. I get it. Would I sacrifice that senior year to have a better individual career and to go to a better school? HELL naw, I wouldn't. I wouldn't. I don't know about them. I wouldn't."
Arguably the most fun of all the interviews I conducted was that which Jerrold 'Pep' Skillon. Pep was a key piece of the 1990-91 Yale Cup and Class B sectional championship teams. Like his brother, he was a two-sport athlete (football and basketball). You could hear the enthusiasm about those times in Pep's voice throughout our discussion. In this excerpt from our discussion, Pep shared a little-known secret in athletics and life. In many instances, you must give to get. In this context, winning in basketball involves buying into the team concept and sacrificing for your brothers. The stars on most teams all learned this at one point or another.
Christain J. Souter, Player, Hutch-Tech High School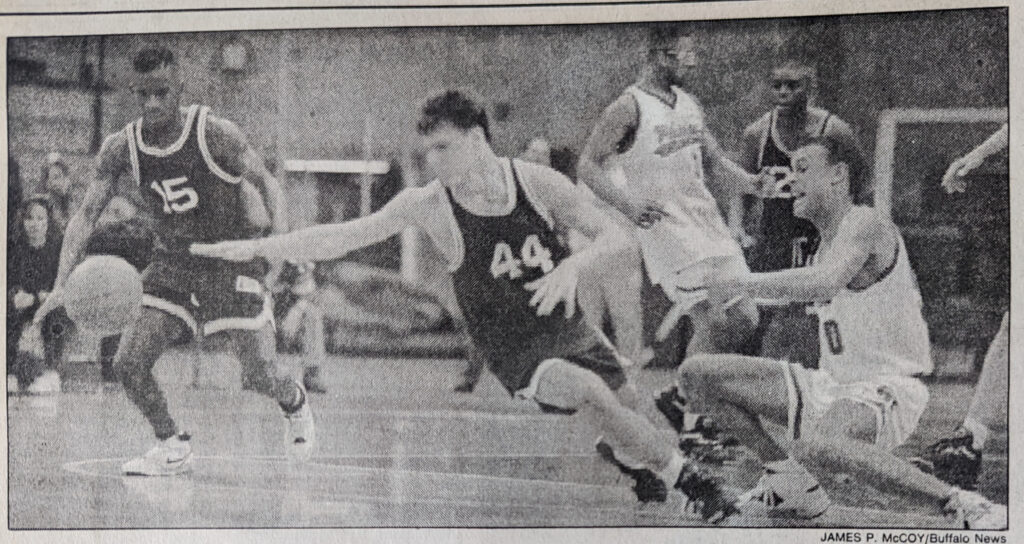 "When I went to college, I played Division III at the Coast Guard Academy. I didn't play varsity, but instead played on the equivalent of our JV squad. We played against a bunch of junior colleges and prep schools. I'll say that I was able to shoot the ball a lot more. I look back though, and I think if we were able to play defense like we did in high school, we would've been able to keep up with a bunch of those teams. So, shooting the ball wasn't always the best policy. I would've liked to have scored more, but from a personal thing, I valued winning over scoring. If I could've scored, I might've finished my career 10 points a game my senior year. If I scored 15 and it takes points from someone else or leaves time on the clock – I'd rather win than get mine, and I still think some guys, they also wanted to win too, but they wanted to get theirs. And that's a hard thing to balance when they're 15, 16 or 17 years old."
No. 44 Chris Souter was a member of the Class of 1992. He was one of the seniors my sophomore year on the Hutch-Tech Boys' Basketball Team. In opinion, he was part of the glue that held our 1991-92 team together. In our interview he had many insightful things to say about his time playing under Coach Ken Jones. Like most of Coach Jones' players, he teaches the same lessons and drills to his kids. This excerpt from our interview goes back to the principle of sacrificing for the team to win. He further discussed the complexities of getting a group of teenagers to buy into a common vision, especially today.
Darris Thomas, Player, Niagara Falls Senior High School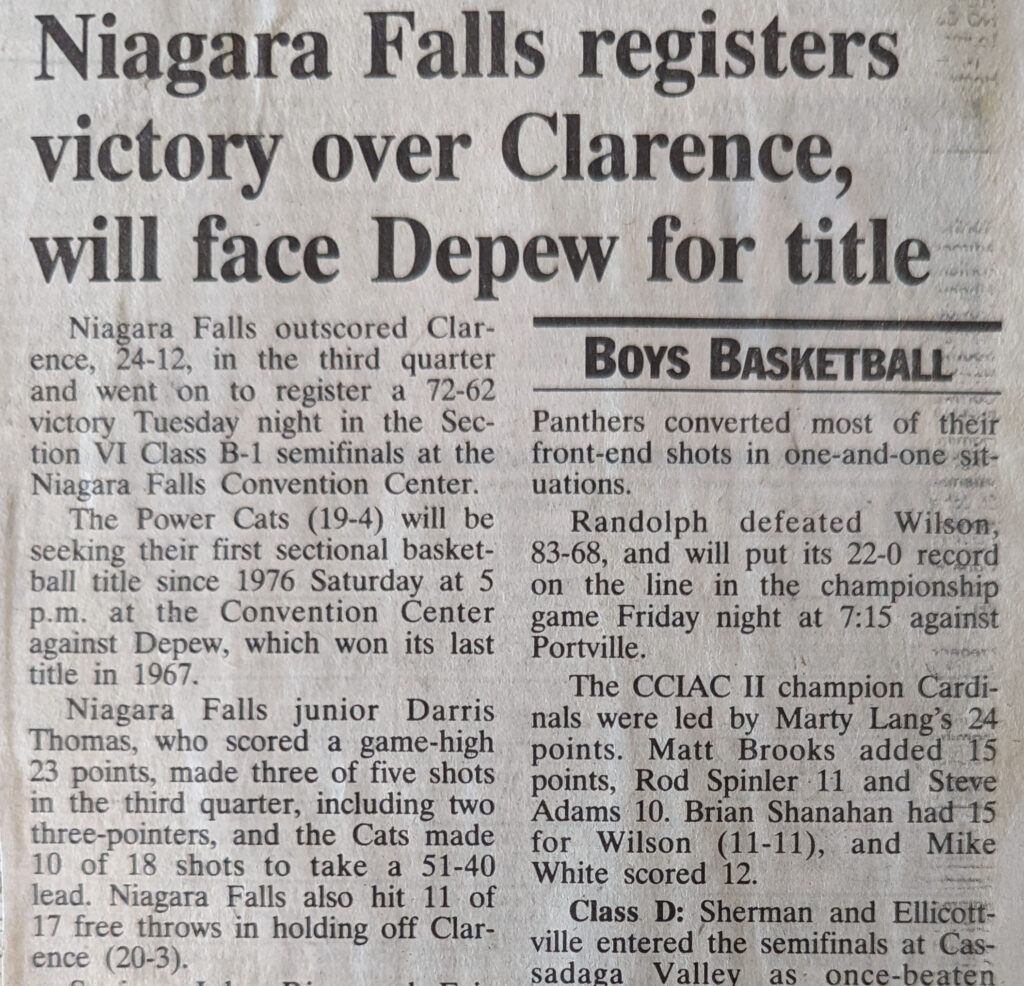 "We had motion. We had plays. He would draw it up but think about it (Coach Vazanni). The key thing in anything is adjustments because when you run a play for four quarters, they know it and they adjust. He meant well, but he wasn't a good adjuster. When the defense adjusted, he didn't have the smarts to adjust like Pat Monti. You knew Carlos (Bradberry) was the guy and you came out with a box and one on Carlos. Guess what, he specialized in getting Carlos open still (laughing). He didn't just say, 'Carlos is locked up, so we'll go to Tim or Jody. No, I'm going to free Carlos up. I don't care if you have a box and one. You know what I mean? That was the difference in Pat Monti. He was more daring, 'Okay. You think you're going to stop me, but I'm going to draw something up!' So, what did he do? He brought Carlos off two or three screens. I remember. A box and one, you have to get through two to three screens and by that time, the defender is tired. Just strategies."
My research for The Engineers revealed that Niagara Falls was a breeding ground for great basketball players. It turned out that LaSalle and Niagara Falls Senior High Schools had a Duke vs North Carolina-type of rivalry. LaSalle won most of those matchups, but the games were like wars. All the kids knew each other and competed in the Biddy Leagues. Darris Thomas starred for the Power Cats while I was at Hutch-Tech. His opinion was that the teams weren't very different talent-wise. The difference was that LaSalle had Coach Pat Monti who both loved the game and cared about his kids. It wasn't that way at every school.
Charles 'Chuck' Thompson, Player, Hutch-Tech High School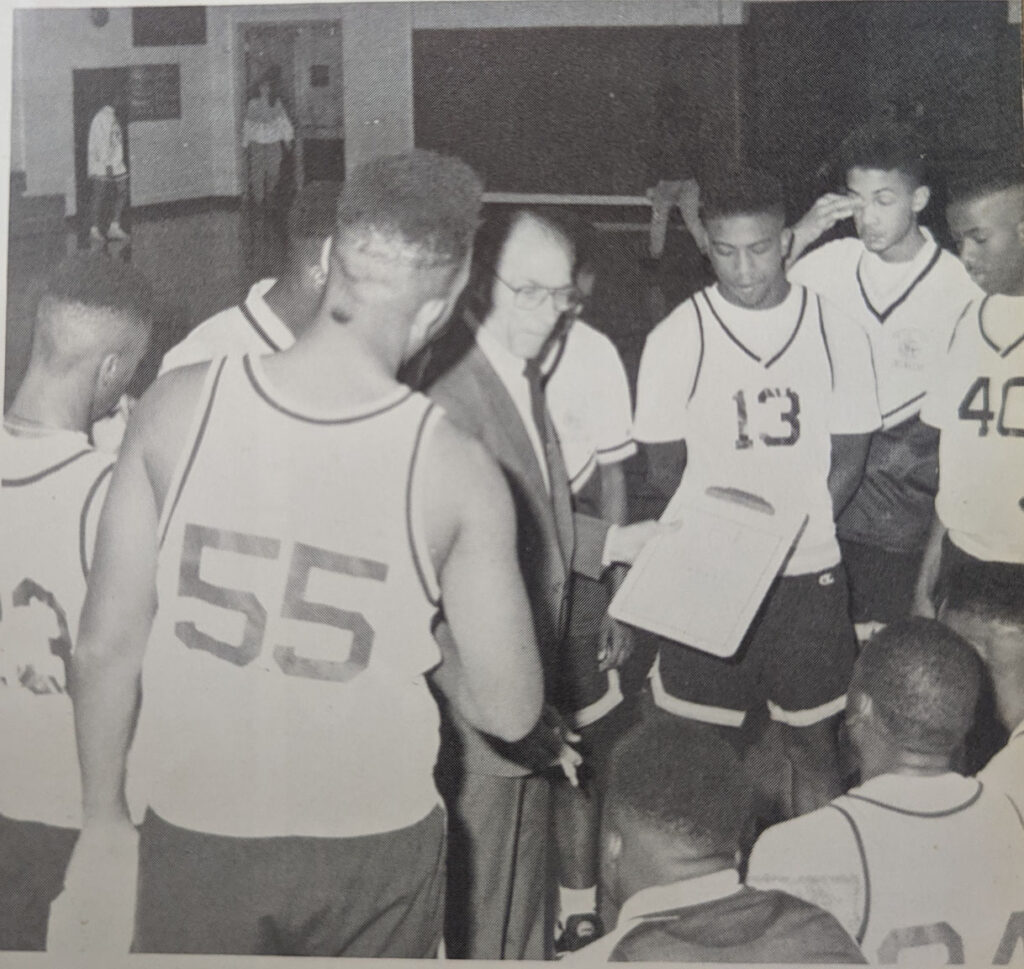 "He knew what he wanted. You had to work hard. It was natural for us because we already had good skills and just needed to be molded into that direction in which we needed to go. It was a way of weeding out the players from the not so good players, but more so for us, especially me, Pep, Curt and Quincy. We already had that background in terms of being good players. We just needed that right connection in terms of putting us all together and Coach Jones had that."
The 6'5" Chuck Thompson was the center for the 1990-91 Hutch-Tech Boys' Basketball Team. He also attended Campus West for grade school and was a two-sport guy (football and basketball). He led the 1990-91 Engineers in rebounding and described himself as the "black hole". When the ball was thrown into the post to him, it wasn't coming back out. Chris Souter recalled how Thompson was clutch from the free throw line and had a soft touch for a bigger guy. In this excerpt from our interview, he discussed how Coach Jones effectively molded their group into a winner.
Dennis Wilson, Player, Turner/Carroll High School and Riverside High School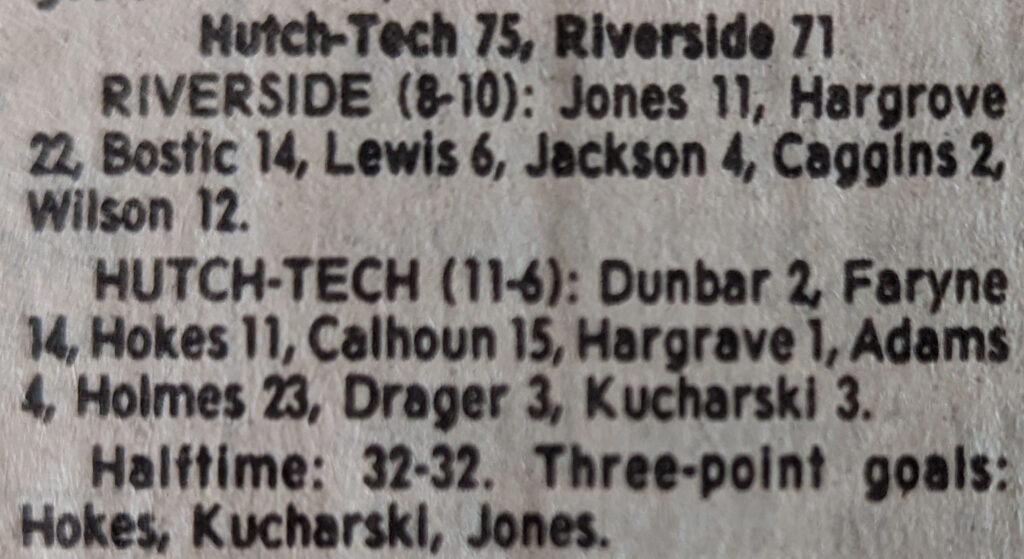 "Nah, he wasn't a yeller (Coach Fajri Ansari). He would yell, but he wasn't a – Faj is a good guy, I really can't say – he was a good coach. We always kind of – and I don't know if this is a public school thing or an African American thing, but we always had problems with St. Joe's because we didn't understand the Xs and Os of basketball. They were good athletes – they were probably as good athletically – we were probably a little bit more athletic, but they just understood the game. They just understood the game period. There's a lot of fine details you have to understand as you go along in any art. Like blogging, I'm sure there's some dos and some don'ts in terms of techniques that you use, and once you understood those, you became a better blogger. Some people just have the gift of writing, but they still have to learn the process and the craft, and for a lot of basketball players, they understand how to play, but the mental aspect of it, you have to learn and for some reason, we're just a little bit slow in learning those things."
Dennis Wilson played at both Turner/Carroll and Riverside High Schools. As such, he got to experience high school basketball in both a private school and a public school. In this excerpt from our interview, Dennis discussed the importance of understanding basketball as a craft. He observed that the teams at Turner/Carroll frequently struggled with the perennial power St. Joe's. Because St. Joe's was always proficient in terms of Xs and Os, they were able regularly best more athletic teams.
Tim Winn, Player, LaSalle Senior High School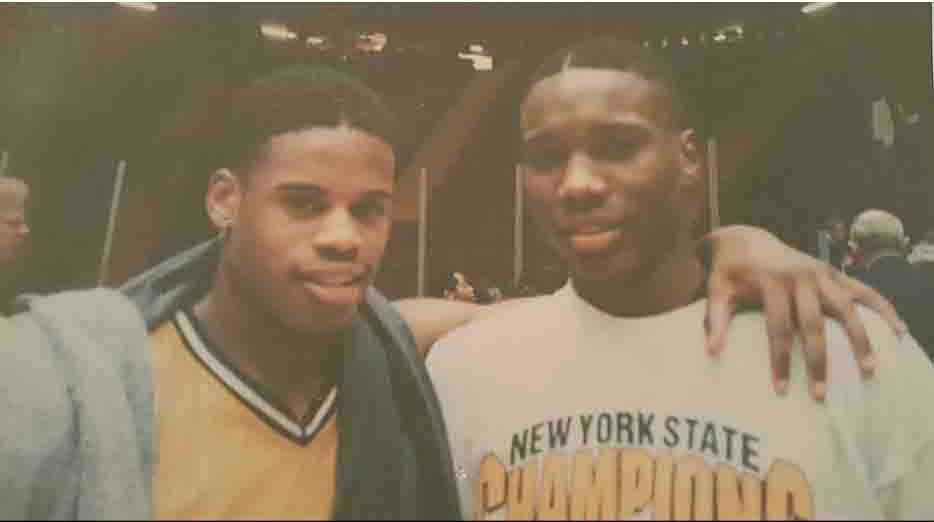 "We all grew up playing in the Biddy League, so you were already cool with these guys. So the transition to being their teammate on the Varsity was seamless, because we were already like brothers. I lived two houses down from Carlos when I was in high school. Before I became a varsity player, I was at his house everyday playing video games. That's the environment we were in – most of the guys who played varsity hung out together. You grew up playing against the older kids, and a lot of those guys were the older kids. So to become their teammate was almost expected, and that we would all eventually play together."
As described in my discussion about Darris Thomas above, most of the players at LaSalle and Niagara Falls Senior High Schools knew each other before they got to high school. They not only knew each other's games, but they also knew each other personally. This created an increased camaraderie and chemistry later. In this excerpt from our discussion, Tim Winn discussed knowing Carlos Bradberry before getting to LaSalle. This probably had something to do with the immediate success experienced once joining the Explorers that winter of 1992.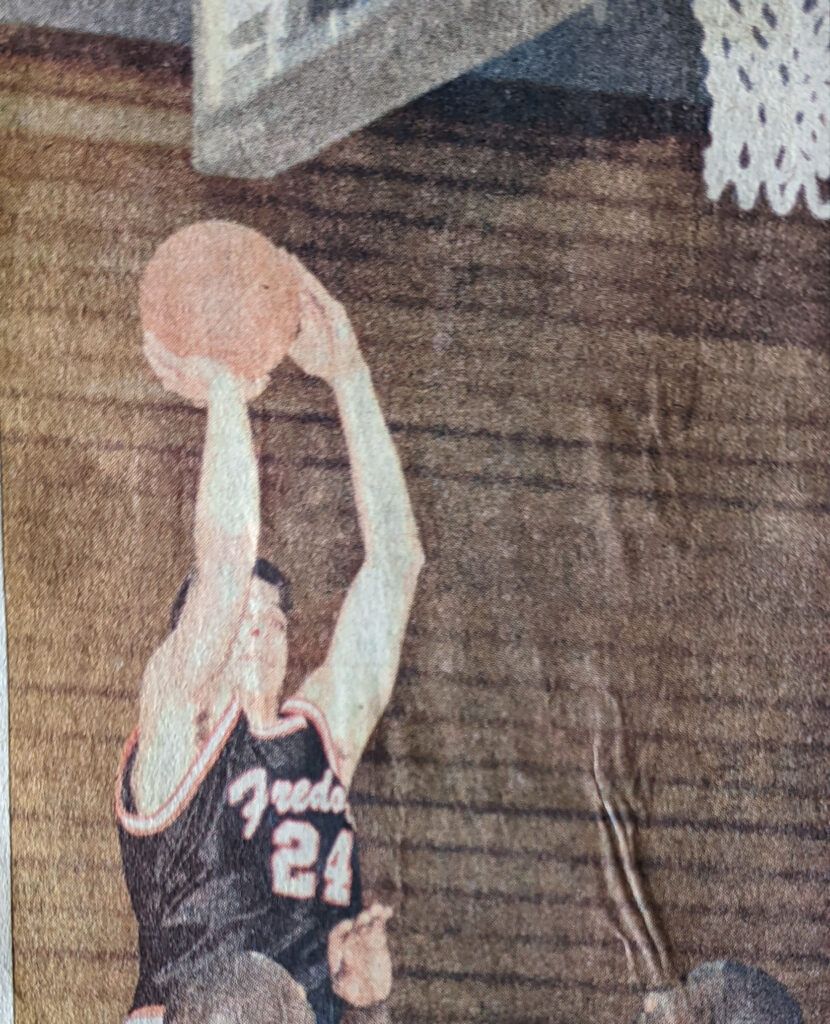 The Pictures Used In This Offering
The pictures used in this offering come from several different sources. Some came from the late Coach Ken Jones. This project wouldn't have been possible without the vast basketball records he kept. Some pictures came from Coach Pat Monti. At least one came from Laura Lama, a classmate from Hutch-Tech high school who still had all her yearbooks. Some came from my own records. It wasn't clear what pictures to use and as you can see the final lineup is an assortment of pictures of players, box scores and visuals from some of Coach Jones' materials. Some are location shots from Western New York.
Just like the players and coaches I interviewed, the pictures are a snapshot of that time and era in the Western New York high school basketball scene. I think this is appropriate because my book project, The Engineers: A Western New York Basketball Story is just one story in the entire fabric of that time. Likewise, during that time, I looked around and saw other players teams either excelling or going through the same struggles I experienced (or some mixture of the two) during my own unique journey.
While I attempted to give each interviewee a picture that related to them, I also sprinkled in pictures of other notable players of the time whom I didn't interview. Some of them include Fredonia's No. 24 Mike Heary, Kenmore East's No. 22 Mike O'Bryan and Cleveland Hill's No. 23 Carlton Holder. The thumbnail for this piece is Cardinal O'Hara's No. 12 Ryan Cochran whose team went on its own magical run during my senior year. Interestingly, I hadn't heard of Cardinal O'Hara High School until that year. This offering also features the first image of myself that I've used in any of these writings. Can you identify me?
Closing Thoughts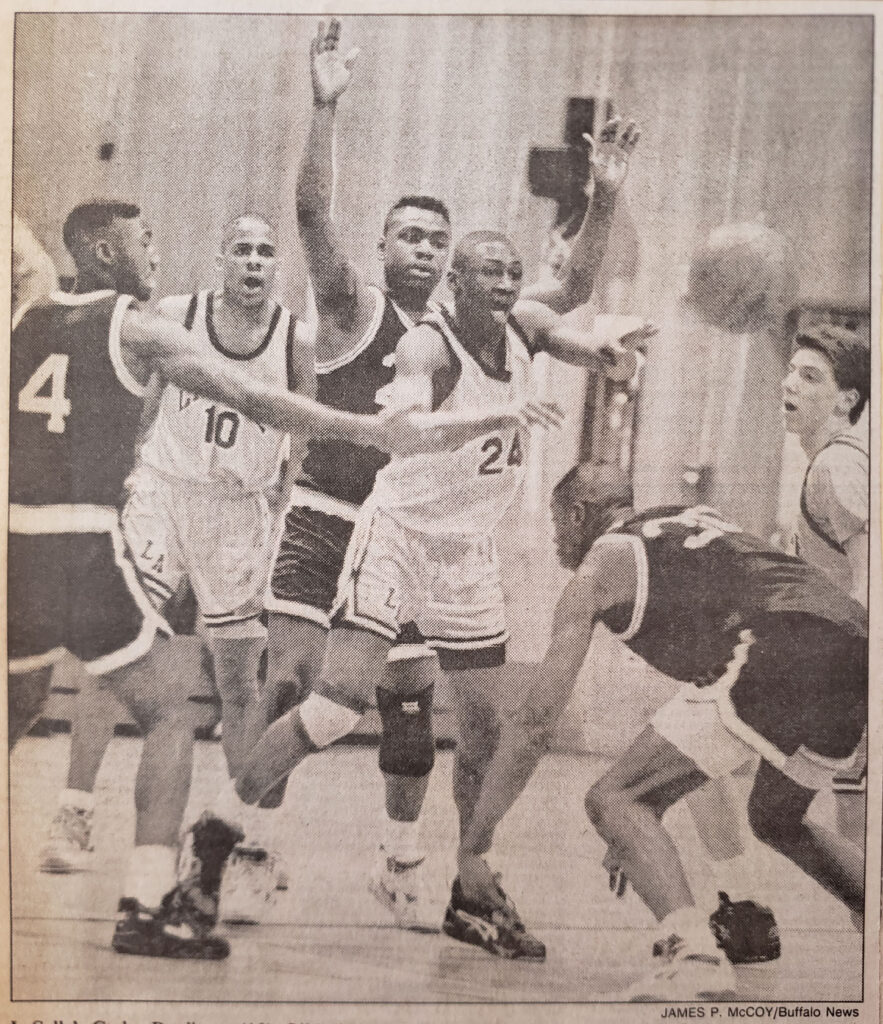 The opening excerpt/quote for this piece comes from Coach Samuel 'Quinn' Coffey. I highlighted it because I think captures the essence of my book project and life itself. One of the ingredients to being successful in the great game of basketball is hard work. Depending upon your circumstance and situation, your hard work could go unrecognized. You must figure out how to push forward though. And just because your work is unrecognized in that moment, it doesn't mean it always will be. It also doesn't mean that it won't pay off at some point.
Thank you again to the other coaches, players and teammates who shared your stories with me. This project would not have been possible without you. This was a long process, and with each interview I gained the strength to keep going and resolved within myself that I was doing the right thing.
More Related Content
I've created other promotional/teaser pieces for The Engineers: A Western New York Basketball Story, both via print and video as I journey through the final steps of completing the book. I created a page here on Big Words Authors for the purpose of giving a background of the book and grouping all the promotional pieces such as this in one place for interested readers. On my first blogging platform, the Big Words Blog Site, there are interviews with some the most accomplished Section VI players from my era including Jason Rowe, Tim Winn, Carlos Bradberry and Damien Foster. I also interviewed legendary LaSalle Head Basketball Coach, Pat Monti. Finally, there are several other basketball-related essays related to my book project. If you liked this piece, please share it on your social media and leave a comment beneath this piece.
The Big Words LLC Newsletter
For the next phase of my writing journey, I'm starting a monthly newsletter for my writing and video content creation company, the Big Words LLC. In it, I plan to share inspirational words, pieces from this blog and my first blog, and select videos from my four YouTube channels. Finally, I will share updates for my book project The Engineers: A Western New York Basketball Story. Your personal information and privacy will be protected. Click this link and register using the sign-up button at the bottom of the announcement. You can also email me at [email protected] to register as well. Regards.