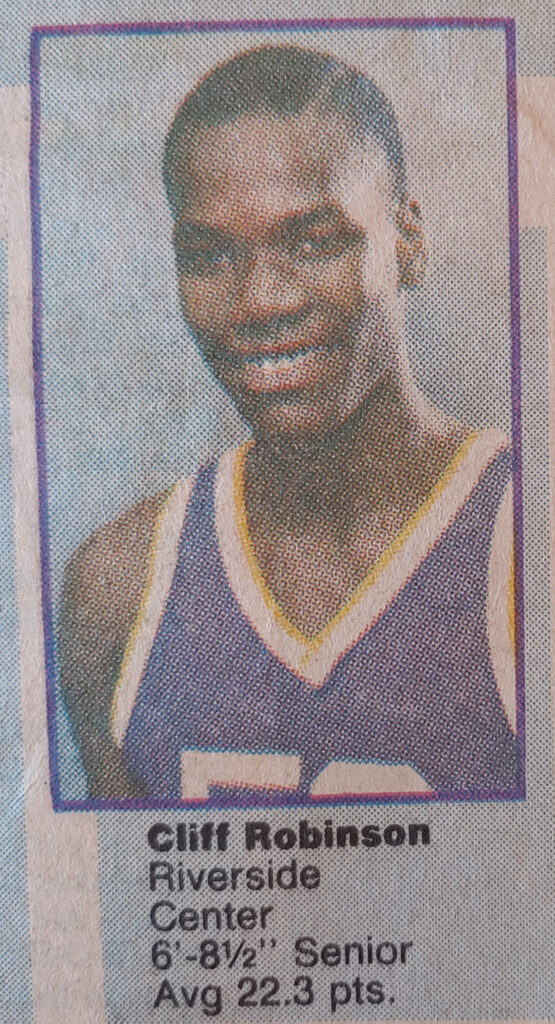 A Story Revealing Other Stories
This story is another promotional piece for my two-part book project entitled, The Engineers: A Western New York Basketball Story. It looks back one of the few basketball players from Buffalo to make it to the NBA, Riverside High School's Cliff Robinson. As described on the web page I created for the book, and the numerous pieces I created surrounding the book, I interviewed 30-40 players and coaches from Section VI. My research revealed several interesting facts. As described below, several names continued to come up during my research.
One of the bases for my story is the 1990-91 Hutch-Tech Boys' Basketball Team. During my freshman year at the school, the team went on a magical run winning our city league, the Yale Cup 13-0. They then won the Section VI Class B sectional, coming within one game of berth in the state final four in Glens Falls, one of many basketball stories from our area over at that time. The pictures used in this essay come from an archive of Section VI basketball. It was assembled over the years from issues of the Buffalo News by my first Coach at Hutch-Tech High School, Dr. Ken Jones.
The Power of Interviews and Research
One of the most powerful aspects of conducting interviews is that you get to hear multiple points of view. In doing so you get to hear commonalities to your own experiences, and differences with others. There were several recurring themes in my interviews for The Engineers such as playing at Delaware Park, the conditions we played in within the Yale Cup league of the late 1980s and early 1990s, and the importance of coaches who genuinely cared about the players. Certain names came up consistently including Ritchie Campbell and Marcus "Ice Cream" Whitfield (Burgard), Trevor Ruffin (Bennett) and finally, Cliff Robinson (Riverside), to whom this piece is dedicated.
I decided to write this narrative after the final interview for The Engineers. It was with one of Cliff Robinson's coaches at Riverside High School, Coach Bill Russell, who coached the Riverside "Frontiersman" during my time at Hutch-Tech. Under Coach Russell's leadership, the Frontiersman led by players including Ed Harris, Billy Nelson and Walter Gravely won the Yale Cup and the Class C sectional in 1992.
Ours was a fun interview which lasted two hours. During which Coach Russell, a true student of the game like my coach, Ken Jones, mentioned Cliff Robinson regularly. Throughout my research Coach Russell was the only one to refer to Cliff as "Clifford". This essay is going to thus revisit my memories of the late Cliff Robinson as a distant onlooker, as well as present excerpts from players who remembered him, and one of his coaches.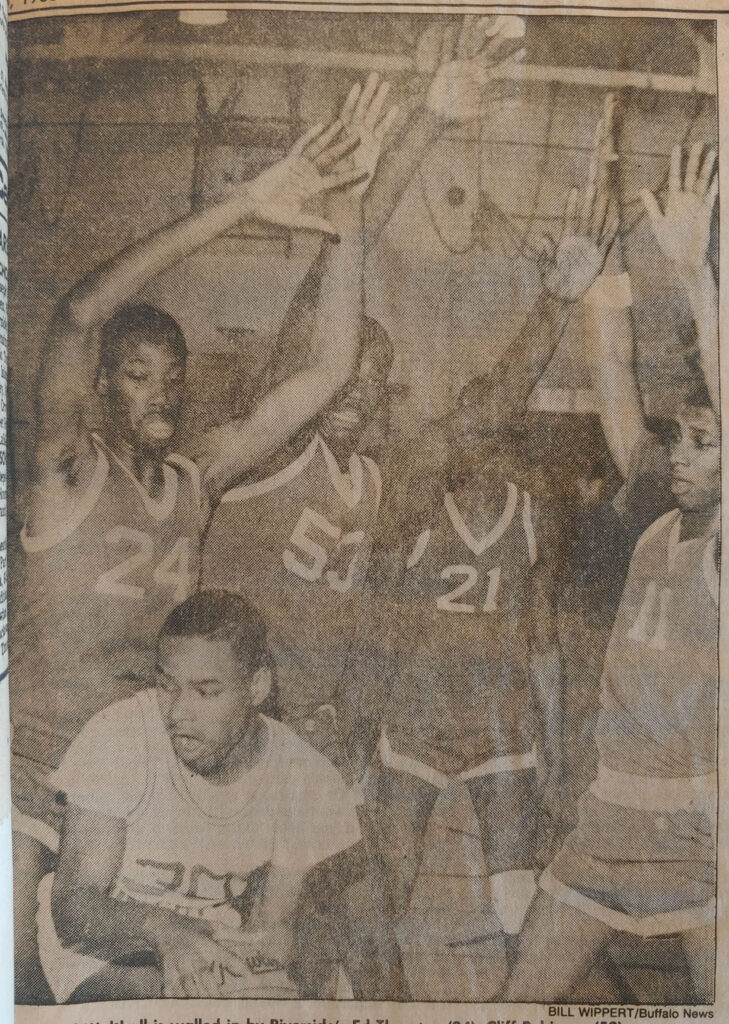 My Memories of Cliff Robinson
Just like Christian Laettner who went on to become a superstar at Duke University from Western New York before playing in the NBA, I didn't learn about Cliff Robinson until he was drafted by the NBA's "Rip City" Portland "Trailblazers" team. That 1989-90 season he was a rookie on a veteran laden team with players including Clyde 'The Glide' Drexler, Jerome Kersey, Buck Williams, Terry Porter and Kevin Duckworth. They were a fun team to watch.
Coach Rick Adelman's Trailblazers made it all the way to the NBA Finals that season before falling to the Detroit Pistons in five games, a 'back-to-back' championship for the Pistons, "The Bad Boys". I vividly remember Robinson wearing the No. 3, flying down the lane in the open court dunking the ball with authority that season and in the playoffs. As time went on, he developed his entire game and began regularly shooting the ball from beyond the three-point arc.
Also etched into my memory is Cliff looking on painfully in the background wearing a red headband, as Michael Jordan trotted up the court with his palms in the air acting confused about his iconic Game 2 offensive performance. It was the 1992 NBA Finals, and he was in the process of burying the Trailblazers with a barrage of three-pointers. The Chicago Bulls went on to win that series in six games.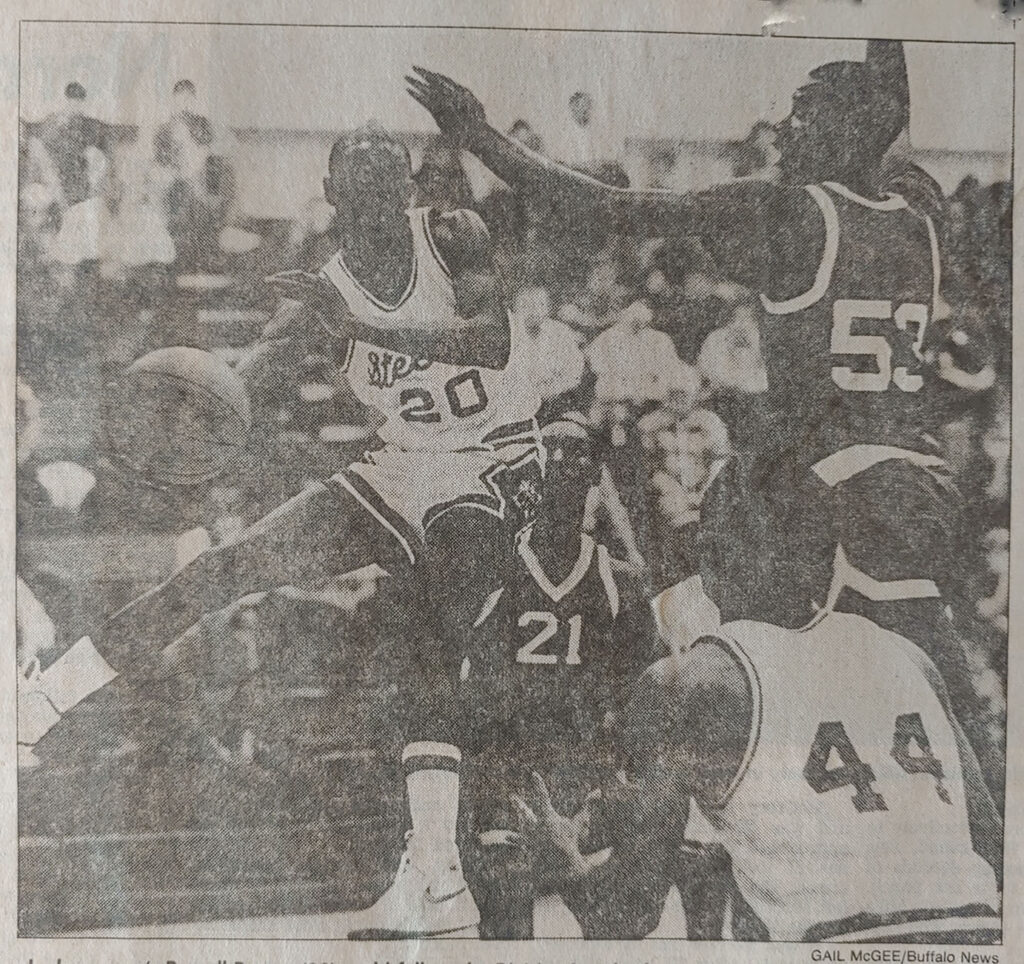 From Riverside to UConn
As described in The Engineers, I didn't discover the Western New York high school basketball scene until I got into high school and was attempting to make the team there. So, I missed seeing players like the above-mentioned Christian Laettner, Cliff Robinson, and a host of others. Cliff wore No. 53 for the Riverside Frontiersman and was a key factor in their successes in the 1980s. His final year, the 1984-85 season, he earned All-Western New York honors at Riverside. I likewise missed Cliff's career at the University of Connecticut (UConn) where he was credited with helping to put the school's basketball program on the map. There he wore No. 00.
While the Huskies eventually became a college basketball power, early in Coach Jim Calhoun's tenure it wasn't that way. Upon joining the Big East Conference, they were consistently looking up at the teams that dominated it at the time. These programs included the Georgetown Hoyas, the Syracuse Orangemen, and the Villanova Wildcats; the headliner teams of the great Big East Conference of the 1980s. You can throw the St. John's Redmen in there too.
Cliff's Journey Through the NBA
Cliff started his professional basketball career with the above-mentioned Portland Trailblazers, but he played for numerous clubs. I think one of Cliff Robinson's final stops in the NBA was coincidentally with the above-mentioned Detroit Pistons in the early 2000s. He was a veteran in the league at that point and played for several teams over his 18-year career. I was in graduate school at the nearby University of Michigan so his getting signed by the Pistons had a special significance for me. It was a few years before the 2004 season when the Pistons assembled their next championship unit, and they were cycling veterans on and off the team, trying to find that right chemistry.
"It's time to say goodbye to Uncle Cliffy!" I'll always remember the famous sportswriter, Mitch Albom of the Detroit Free Press, declaring his opinion that it was time for the Pistons to move on from Cliff. The 2002-03 season was his last one with the Pistons. From there he made stops in Golden State, Toronto, and New Jersey (now the Brooklyn Nets). I had stopped following the NBA closely by the time he retired, and the next time I recall hearing his name was when he died late in the summer of 2020. It turns out that he passed away at age 53 from lymphoma, and not Covid-19.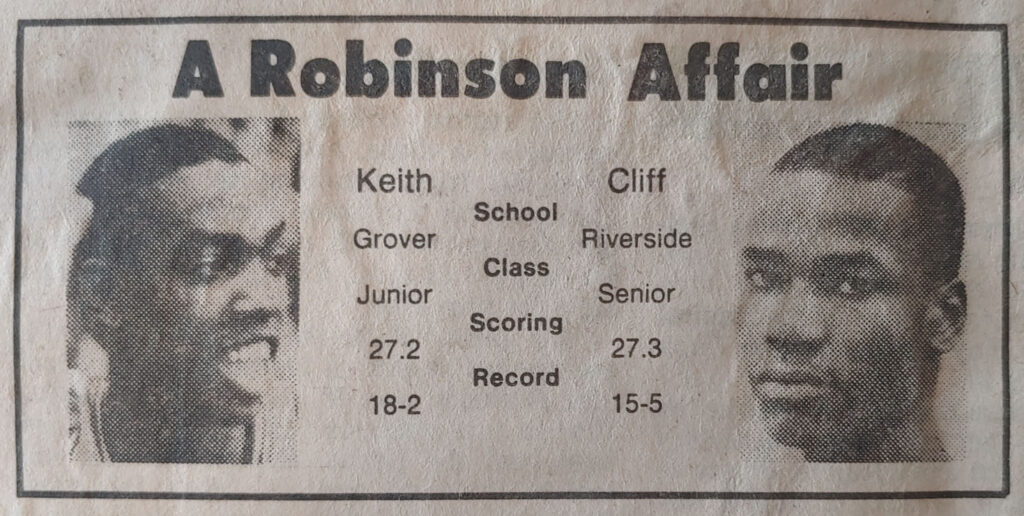 Stories about Cliff Robinson from My Research
As described when I conducted interview after interview for The Engineers, Robinson's name continuously came up. The following are excerpts from my interviews where Cliff was mentioned.
Ryan Cochran, Player, Cardinal O'Hara High School
"There was talk about Cliff Robinson. My stepmom was friends with him, and I still remember him pulling up in his black sports car, cheesing ear to ear. We wound up going to Delaware Park and playing a couple of games there. I couldn't believe that I was playing with a caliber of player of Cliff Robinson, a legend in Buffalo."
Ed Harris, Player, Riverside High School
"I cried when Michael Jordan retired, but as far as local talent, Trevor Ruffin was the guy that I loved to guard. Trevor brought the best out of me. Going up to Delaware Park – they were some of the best battles that you could ever have playing in the city of Buffalo. Guys like Trevor, Cliff (Robinson) would come back and play, and just the battles and all the kids and players who were in college at that time, they were just some of the best battles."
Frankie Harris, Player, Hutch-Tech High School
"From my junior to senior year, I was playing with those guys and they dogged me out, but that's how you got better! Cliff Robinson used to come to the park and he and his brothers could play too. Nigel Bostic, Leonard Russell – all those guys could play, and I could only get better because I'm playing against them every day. I see kids today, they don't have that, especially in Buffalo, kids are running the streets and there's too much other stuff going on."
Keith Hearon, Player, Hutch-Tech High School
"First, Cliff Robinson, his sister used to live on the street after me. His sister was a big baller, so I used to go over their house to hoop in the back yard and she used to come down and play and talk about him. My uncles used to talk about him."
Reggie Hokes, Player, Hutch-Tech High School
"Yes, I knew I wanted to play varsity basketball right away. I knew about Ritchie Campbell and Cliff Robinson, all those guys. Also I had heard about Christian Laettner. I was familiar with Trevor Ruffin because we had a park called 75 and they would come down and play and they'd call it 'Live at 75', and they used to have games down there – Ritchie and all of them would have summer league games."
Earl Holmes, Player, Hutch-Tech High School
"I actually knew about them because Cliff Robinson lived on my street. In the summertime he used to take me to Roosevelt Park in Langfield to play with him and his sister. I used to play with them all the time. They lived three houses down from me! That's my guy right there."
Bill Russell, Coach, Riverside High School
"We had previously had some talented players. That team Clifford Robinson was on, that was a talented team. We had the unfortunate destiny of seeming to have to play Lackawanna every year. We played them several times and Lackawanna was a legendary and successful program. There were several state championships and then a few years later there was a Niagara Falls team that seemed to overpower teams. And we seemed to have to play Lackawanna in those years, several times in the sectionals. We lost to a very strong Lackawanna team. We might've won a state title that year. Despite having Clifford, we lost in the first round. Lackawanna would always be seeded No. 1 and undefeated!"
Dennis Wilson, Player, Turner/Carroll High School and Riverside High School
"Oh, absolutely. He knew basketball (Coach Russell). He was a great historian. We went over to his house on winter breaks. We got pizza and we'd be watching old clips of Cliff and Ritchie (Campbell) and everything. I don't know if he was the head coach with Cliff, but I think he was on the staff."
My Brother's Cliff Robinson Story
On my sports YouTube channel, Big Discussions76 Sports, I recorded a voice-over video shortly after Cliff died in 2020 (embedded below). Sometimes when you record things, you listen to the playback and you realize that you misspoke. Or someone points it out to you. My brother, Amahl, had a funny story about Cliff. It involved when Cliff Robinson and his family visited the Homestyle Family Buffett. It was in Tonawanda, NY on Niagara Falls Boulevard in the early 1990s.
Legend has it that my brother, who worked at the restaurant (his first job), approached Robinson for an autograph. The 6'10" star replied, "I'm eating!" The story makes me laugh every time. If you check out that video, I state that my brother approached Robinson for an interview. He quickly corrected me in that it was an autograph. Robinson's reaction was not surprising. Athletes, celebrities and entertainers often get approached and may tire of it. Cliff was a big deal for Buffalo kids like us at the time who did not know him growing up. It was likewise a big deal to see him anywhere around the city.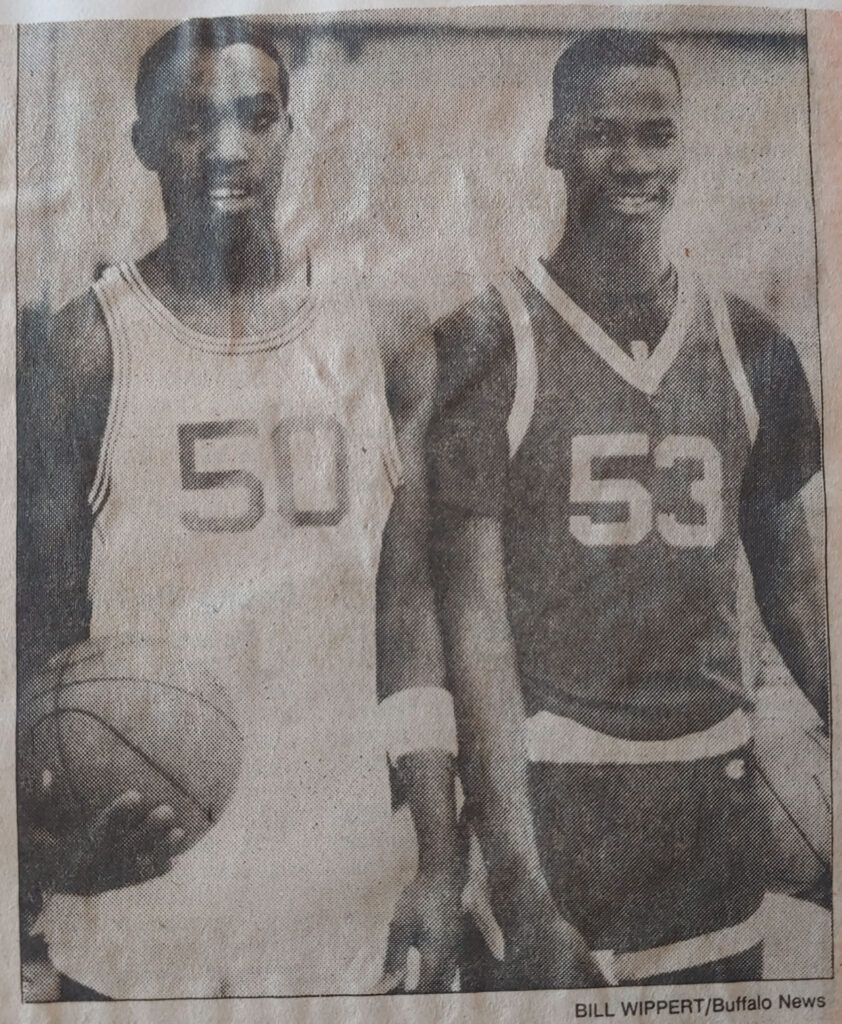 An Addendum Discussing Cliff's Business Activities Post Retirement
When I originally published this piece, I was unfamiliar with how Cliff spent his years between his retirement from the NBA and his death. This essay received a lot of engagement/support in some of the basketball groups in Facebook that I'm a member of. There one of the other members pointed out that like many retired professional athletes, Cliff entered the realm of entrepreneurship.
Specifically, his interests were in the cannabis industry where he started a company called "Uncle Cliffy". He partnered with a company called "Pistil Point Cannabis" out in the Portland area where he started his professional career. He was particularly passionate about increasing awareness that players could use marijuana-related products medicinally to help them through injuries for example. Robinson controversially used marijuana during this NBA career admittedly for anxiety, and to increase his personal focus. This conflicted with league policy.
Final Thoughts on Cliff Robinson
This concludes my piece on Cliff Robinson. Going back to the images used in this piece, they're all from the Buffalo News. You'll notice that he was pictured a couple of times with another notable Robinson, Grover Cleveland's Keith Robinson. To my knowledge the two weren't related. They were both notable players in the Yale Cup and Section VI at that time though. They were both taller front court players and went on to play major Division I basketball. As described, Cliff went on to UConn and Keith went on to Notre Dame shortly afterwards.
The opening quote for this piece was from Coach Bill Russell who had nothing but fond memories of Cliff. If you have memories about Cliff, whether they be from Buffalo, UConn, or the NBA, please feel free to share them below this essay. By the way, Buffalo is admittedly a small city, but it's interesting how many of these stories led back to Riverside High School which, by the way, is my mother's alma mater. There are excerpts from my discussion with Coach Russell throughout this piece. I'm going to conclude this essay with on more which speaks to what Cliff accomplished at the professional level.
"Clifford grew up by the Erie County Medical Center (ECMC), near Delevan and Grider. Those are kids that grew up with us. Clifford played 18 years in the NBA, 18 years. Even for people in the city – Clifford is not really a hero in the city as much as I thought he would be," Coach Russell said. "About a year ago, or two years ago, James Harden passed 20,000 points and they made a big deal out of it. Harden hits the 20,000-point mark.
"I made a little statement on Facebook. I said, 'Harden just passed 20,000 points and exceeds Clifford Robinson's total which was 19,950 or something.' There were a bunch of follow up comments saying, 'Oh, my God, I never knew that Clifford scored that many points in his career!' That's true because nobody knew how significant a player that he was. Because it's a big deal when somebody scores 20,000 points in the NBA. Clifford never had 1,000 points in high school, but he almost got 20,000 points in the NBA. That's crazy!"
Related Content to My Book Project and this Essay
Thank you for reading this piece looking back at Cliff Robinson. I've created other promotional/teaser print and video pieces for The Engineers: A Western New York Basketball Story. I've created a page here on Big Words Authors for the purpose of giving a background of the book. There I've grouped all the promotional pieces such as this in one place for interested readers. On the Big Words Blog Site, there are interviews of some of the most accomplished Section VI players from my era. They include: Jason Rowe, Tim Winn, Carlos Bradberry and Damien Foster. I also interviewed legendary LaSalle Head Basketball Coach, Pat Monti. Finally, there are several other basketball-related essays related to my book project. If you liked this piece, please share it on your social media and leave a comment beneath this piece.
The Big Words LLC Newsletter
For the next phase of my writing journey, I'm starting a monthly newsletter. It will be for my writing and video content creation company, the Big Words LLC. In it, I plan to share inspirational words and pieces from both my blogs. I will also share select videos from my four YouTube channels. Finally, I will share updates for my book project The Engineers: A Western New York Basketball Story. Your personal information and privacy will be protected. Click this link and register using the sign-up button at the bottom of the announcement. If there is an issue with the form, you also email me at [email protected] . Regards.